MotoGP: Marc Marquez turns screw on Valentino Rossi and co

By Matt Roberts
BBC MotoGP presenter
Last updated on .From the section MotoGP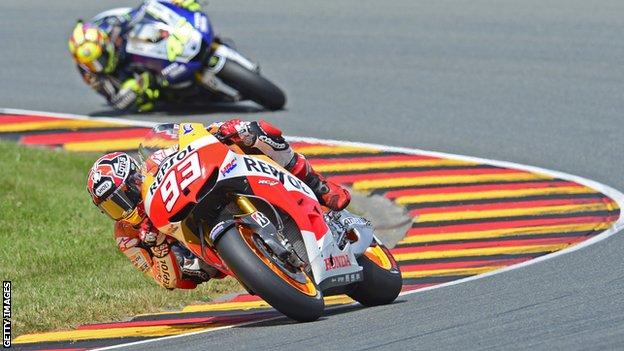 The post-race news conference at Laguna Seca on Sunday turned into something of a love-in between Valentino Rossi and Marc Marquez.
Rossi may no longer be the man to beat on the track but he remains the master off it and, with Marquez a keen student of his hero in every aspect of the job, they worked the packed room of journalists with the style and subtlety that defines them both as the standout talents of their respective generations.
Asked if he thought Marquez had taken his crown by passing him in the Corkscrew, Laguna Seca's trademark corner, Rossi pointed out he had not been world champion since 2009 so it was not his to give away.
On the controversy of the pass, he joked he now had a credit to spend on Marquez in the future and heralded the young rookie as having "100% the possibility" to surpass him as the widely perceived greatest of all time.
Valentino also claimed he was happier with his third place than he had been with the same result at Sachsenring because his performance was better, but in truth he will still have been disappointed with the outcome of a race that, on paper, was his to lose.
With Dani Pedrosa and Jorge Lorenzo struggling for fitness and Marquez riding at Laguna Seca for the first time, Rossi will have travelled to California knowing he had a massive opportunity to haul himself back into championship contention.
Instead it was Marquez who turned the screw on the injured pair and put himself in pole position to achieve the biggest prize of them all in what is already a record-breaking season for a rookie. While that audacious move in the Corkscrew may not have been the symbolic passing of the crown the media were trying to paint, the result was certainly significant.
Not only had Rossi missed a golden opportunity to close the gap on Lorenzo and Pedrosa but he finished behind Stefan Bradl and only marginally ahead of Alvaro Bautista - two talented guys making the most of a privateer Honda package that seemed better suited to Laguna than the factory Yamaha, but not the kind of threat that would have worried the rampant Rossi of old.
On his return to Yamaha at the start of this season, Valentino said he wanted to know if he could still do it, if he could still be competitive. With half of the season gone, the answer is becoming clear and in fairness it was what most of us expected: an outstanding rider and a race winner still, but no longer a genuine championship threat.
There is still time for that to change but it was with a telling air of resignation that he made reference to Marquez's record-breaking achievements in comparison to his own rookie season back in 2000, when he burst onto the scene as a double race winner and championship runner-up.
"I was very fast on the 500 in 2000, but I made a lot of mistakes and crashed in the first two races, and maybe for that reason I lost the championship," he said. "So Marc is like me but upgraded - the new model!"
Like Rossi and every other rookie before and since, Marquez was always going to make mistakes and he has done, but the key is he has got away with them. For all his crashes this season only one has come in a race and crucially he has escaped injury despite a series of spine-chilling tumbles at speeds well in excess of 100mph.
Even more impressive is his mental strength in shrugging off such setbacks, like the high-speed tumble that cost him pole position at Laguna Seca on Saturday. Psychologically speaking it was the kind of crash that can set certain riders back several races but, time and again throughout his career, Marquez has shown the character to bounce back and still perform to his maximum come race day.
Apart from when he crashed at Mugello - a "stupid mistake", he said - Marquez has been on the podium at every race this year and in the second half of the season will continue to get stronger and more difficult to beat.
So Rossi may have a credit on Marquez but the wily Italian knows only too well he might not have the opportunity to spend it. The concern for Lorenzo and Pedrosa, meanwhile, is they too are already too deep in the red.
Motorcycle racing, though, is a fickle business on and off the track - just ask Bradl and Cal Crutchlow. A few hours after Bradl admitted in the same post-race podium news conference at Laguna that he was unsure of his future, HRC reportedly put a new contract in front of him, just a couple of weeks after declining to activate their option on the German.
If true, it means Crutchlow, who endured his worst weekend so far this season, finds himself with one less option to consider for next year and, probably, one step closer to a factory ride with Ducati.
You can imagine that Casey Stoner watched Sunday's events with great interest and it was good to hear confirmation on Tuesday that the co-star of "The Corkscrew Controversy: Part I" - when Rossi passed him there in 2008 - will be back testing with HRC in Japan next month.
The news has prompted widespread rumours Stoner is reconsidering his retirement but the truth is a testing role had been agreed long before the Australian bade farewell to the championship at Valencia last November.
This is not a knee-jerk reaction to boredom in his retirement year; Casey loves riding motorcycles fast and Honda love him riding their motorcycles fast, so a testing role was always a sensible compromise.
Stoner tweeted on Wednesday that he is looking forward to 'having fun' on the bike but his idea of 'fun' is what the rest of us call 'improvement' and he will not be riding around at anything less than full throttle.
Whether he has enough fun to reignite the embers of his passion for racing, that must still be burning somewhere deep inside him, remains to be seen.
The hypothetical prospect of Stoner coming back to challenge Marquez is a mouthwatering one but on current form even the double world champion - generally regarded as the most natural talent of his generation - would struggle to keep pace with the young Spaniard.
If he really wants to come back, he'd better do it quick.