Cal Crutchlow's Ducati move a gamble - but too good to miss

By Steve Parrish
BBC motorcycling commentator
Last updated on .From the section MotoGP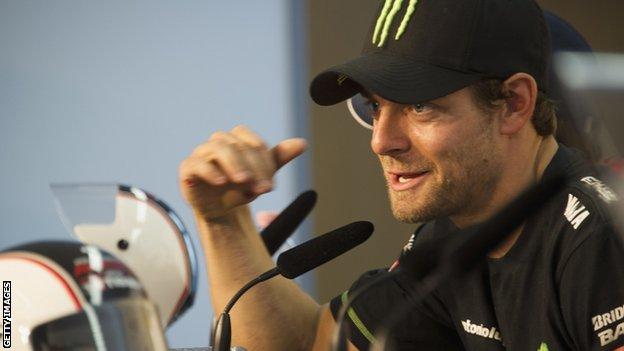 There is no doubting that Cal Crutchlow's move to Ducati is a gamble but motorcycle riders are gamblers and this was too good an opportunity to turn down.
There are a few reasons why I think he left Yamaha and their satellite Tech 3 outfit.
One, there's clearly the financial benefits of racing with a factory team. MotoGP is the same as any other sport: there's a narrow window for a rider to compete at the top and they have to think about their future.
Two, there's a fair amount of kudos that goes with being a factory rider. I remember, as a rider myself, moving into factory team was a massive step. I felt loved by the team, everybody was working for me in the way the bike was prepared and designed, and you have a far better input.
And three, I don't think Yamaha saw his potential. They didn't do a very good job of trying to keep him. He has probably spoken to lots of people who courted him in much better fashion. Tech 3 negotiated with Spanish Moto2 rider Pol Espargaro, who will replace Cal next year, at a point when they should have been talking to Cal - and I think that upset him.
From day one, Cal has always said his aim was to get in a factory team. I'm quite sure that, if he had the choice, he would rather be in a Yamaha or Honda factory team. But, nevertheless, the Ducati is a full factory effort where the motorcycle will be designed and built bespoke for him.
When you're a satellite rider, you end up getting what is available from the factory teams, not what you ask for. It's like being the younger child in the family and getting the hand-me-downs.
Cal is very good at giving a team direction. I know his Tech 3 boss Herve Poncharal has been astonished at how well Cal is able to work out what to do to a bike to make it go faster. And it isn't just about making a motorcycle go faster, it's about making you go faster on a motorcycle.
Cal is not daft and knows Ducati hasn't been the easiest bike to ride. People will think that if Valentino Rossi, who only managed two podiums in two years with the team, couldn't sort it out, what chance does Cal have? But Cal rides the bike differently.
We shouldn't forget, too, that Casey Stoner won a lot of races on it - including a championship in 2007 - so it's not impossible to ride that bike.
I don't think it was a case of Ducati or nothing for Cal next season. Late in the negotiations, there was the possibility of a ride with the Honda-supported LCR team. But Stefan Bradl had a good ride in his home race in Germany and an even better one at Laguna Seca.
Bradl's contract was signed in California just hours after that last race, so those performances probably swayed the decision to keep him.
I think there was some consideration that Honda might want Cal because he's the one rider who was out of contract at the end of the season and is a potential world champion.
Yamaha have already got contracts in place with Jorge Lorenzo and Rossi, so it was a case of 'why change?' Lorenzo is a two-time world champion and Rossi is - win, lose or draw - guaranteed to be popular, so I can see why they didn't want to switch.
Cal is probably going to be number one rider at Ducati and I think he'll cope admirably. He's in his third season in MotoGP and his improvement has been phenomenal. We didn't know his full potential and I don't even think he did. He had a mediocre first year, but it's been impressive from there on in.
The factory Ducati bike and the team are the best available for Cal right now. That's not based on results - they've not finished higher than fourth this year - but you can't forget that they have won a world championship.
I think Cal has made the right decision. He has achieved his goal of becoming a full factory rider. His next challenge is to work with the team to develop that bike into a world championship winner.