Ducati: Where did it go wrong for Cal Crutchlow's new team?

By Azi Farni
BBC Sport pit-lane reporter
Last updated on .From the section MotoGP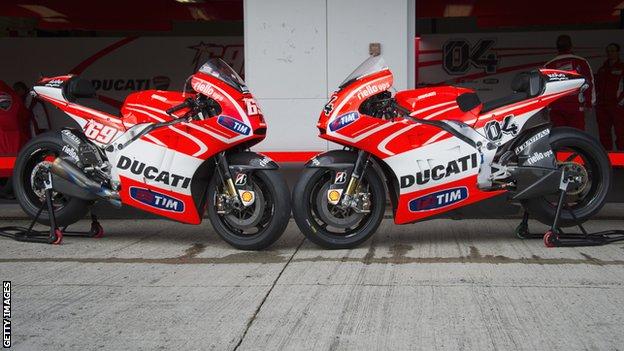 In 2007, at the dawn of the new 800cc era and five years after their return to Grand Prix racing, Ducati won the World Championship with Casey Stoner.
Since then, no-one but Stoner has brought the Desmosedici to victory and the team look far from adding to their one and only world title.
Next season Briton Cal Crutchlow will take up the challenge after signing a two-year deal with the team.
Ducati have been accused of killing the career of Marco Melandri, and of nearly doing likewise to the untouchable Valentino Rossi.
After top-five finishes in the three seasons before moving to Ducati, Melandri slumped to 17th in the standings after joining the team, and two years later left MotoGP.
Rossi, meanwhile, failed to win a race in his two years at Ducati.
But where did it all go wrong?
Ducati's time in MotoGP started well.
When the regulations were changed to allow four-stroke engines in 2002, the Italian factory started developing the bike that would bring it back to Grand Prix racing in 2003.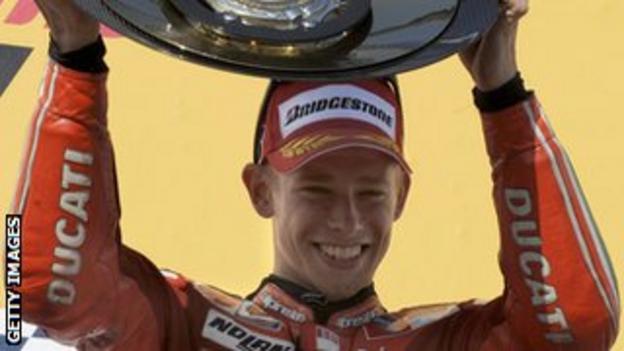 That bike, the Desmosedici GP3, took a podium on its debut with Loris Capirossi, who went on to record the manufacturer's first win five races later. He and team-mate Troy Bayliss had nine podium finishes between them that year.
Three years later, Capirossi would take the GP6 to third in the standings, while Bayliss took his only win in MotoGP in the last round while riding as a substitute for the injured Sete Gibernau.
It was a fairytale season that cemented the Italian marque as serious contenders against the might of the Japanese factories.
Then 800cc bikes and Stoner came along, and Ducati went from contenders to champions; the first non-Japanese winners of a riders' title in over 30 years.
If Stoner's success had a downside, though, it was that it would later mask the fundamental problem, the lack of front-end feeling, justifying a slow approach to development.
In later years, the sight of a rider losing the front of the red machine and tumbling down would be all too familiar.
Stoner's biggest attribute, not recognised or appreciated until he was winning on the Honda while Rossi was losing the battle with the Ducati, was his ability to ride around problems. For him there was no limit, he rode the "Desmo" the way it demanded to be ridden, to the point of 'crash or win'.
Others would focus on the problems, perhaps too aware of them to allow the limits to be tested.
Melandri, who partnered Stoner in 2008, cut short his two-year Ducati deal at the halfway point by mutual consent after failing to get to grips with the GP8. As Stoner rode it to six victories and a further five podiums that year, Melandri was told the problem was not the bike and was duly sent to a psychologist.
Even Stoner would later complain his requests for changes would go unheard.
Later, the likes of Toni Elias, Aleix Espargaro and Randy de Puniet - riders who have proved their worth before or since - would struggle on satellite Ducatis.
Indeed it wasn't until Rossi arrived that Ducati seemed to really take note of the need for a major upheaval in design. You couldn't send a seven-time MotoGP champion to a psychologist for complaining about the bike.
Rossi and his crew were brought in to address the need for change and spearhead development in an ambitious project, the fruits of which ultimately failed to find a cure for the long-standing front-end issues.
The Rossi years saw a variety of updated bikes, each time with fundamental changes.
The GP11 and heavily revised GP11.1 of 2011 gave way to the GP0 at the end-of-season test, where Ducati rolled out a twin-spar aluminium frame, breaking away from a fiercely upheld belief in a carbon fibre frame after much pressure from Rossi's camp.
More changes would come in the GP12, but it wasn't enough.
Rossi failed to record a victory in both 2011 and 2012 - the first winless seasons of his Grand Prix career - and managed just three podiums with Ducati. Nicky Hayden, in five years with the team, has matched that.
That two world champions couldn't win a single race spoke volumes and it was no surprise Rossi rejoined Yamaha when his contract ended, taking a huge pay cut in order to "enjoy" racing again.
Why couldn't Rossi, arguably the greatest rider of all time, win on the bike?
By the halfway point of his Ducati contract Rossi seemed unable, or unwilling, to push it to the limits, with a lack of confidence in the machine.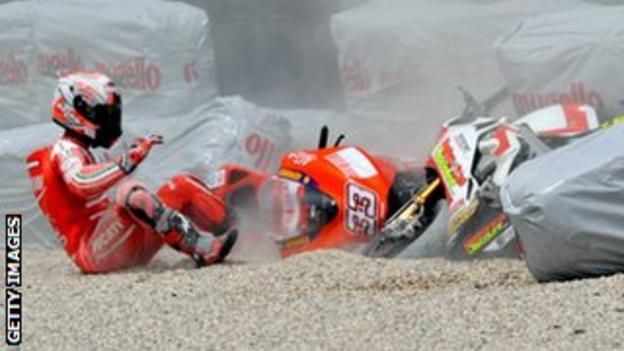 At the time, some blamed his age, saying the Italian was past his peak. But in half a season back at Yamaha, at 34, Rossi - with one win and three podiums - has already beaten his achievements of two years in red.
Rossi said Ducati didn't listen, echoing Stoner and Melandri: "When you say you have a problem, first the Ducati guys don't trust you 100% and secondly they are quite angry because you say the bike has a problem."
Perhaps no surprise, then, that the Audi takeover of Ducati brought about a reshuffle in management, with BMW superbike director Bernhard Gobmeier replacing Filippo Preziosi as general manager of Ducati Corse, and World Superbikes general director Paolo Ciabatti coming in as the MotoGP project director.
With Audi funding, a German approach and a pragmatic leader in Gobmeier, widely credited with turning around the fortunes of BMW, there was a sense of optimism ahead of the 2013 launch.
Andrea Dovizioso's signing to replace Rossi seemed logical. A regular podium finisher with a proven track record, he finished third in the championship on a Honda in 2011 and fourth on a Yamaha in 2012.
With Dovizioso, Ducati have the invaluable knowledge of a rider who has been on two championship-winning bikes and understands well how they work.
He realises the need for patience and that bringing the Desmosedici back to competitiveness is a long-term project.
There were no wholesale changes for 2013, with Gobmeier emphasising "evolution not revolution" at Ducati's pre-season launch, saying: "We will not copy a Yamaha, and will stick with the Ducati philosophy."
Rossi underestimated Stoner's achievements and overestimated those of the bike's when he made the move, but Dovizioso and now Crutchlow moved with their eyes wide open.
Ducati's move for Crutchlow shows ambition. In pairing him with his former Tech 3 team-mate, they now have two of the top riders in the championship spearheading development.
Ducati clearly think Crutchlow's riding style will suit their bike, a beast that needs a strong character to tame it.
Bringing it to a competitive level and able to be ridden by anyone - not just Stoner - is a long-term project.
In the meantime, though, they need someone to wrestle the machine to the finish line, bring immediate results and boost morale.
The Desmosedici smells fear but Crutchlow doesn't know how to stay down. His never-say-die attitude could be the catalyst Ducati need to revive their fortunes.
Joining Ducati is a bigger gamble for a rider than the team. They survived the Rossi years, where major changes came at a huge cost - both financially and to their reputation - and left them no better off. But they can ill-afford another spell like it.
Crutchlow and Dovizioso are gambling their successes on believing in Ducati's long-term project. Ducati are gambling their future on a long-term approach to development.
It's a risk for all parties. But taking risks is what this game is all about.