Cal Crutchlow Column: I buy into the Ducati project
Last updated on .From the section MotoGP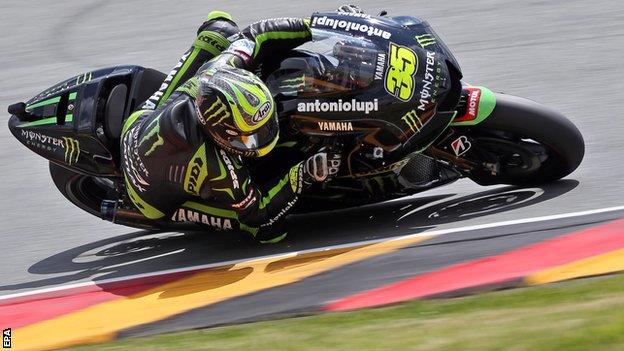 Cal Crutchlow is Britain's leading rider in MotoGP and is fifth in the championship. In the fourth of his series of columns for BBC Sport, the 27-year-old talks about his motivations in signing a two-year contract with the factory Ducati team for 2014.
During the summer break I signed a contract with Ducati for 2014 and 2015. It is the first time in my MotoGP career that I will be a factory rider and I'm looking forward to the challenge.
I know Ducati have struggled in recent years but I think we're going there at the right time. I believe in the project 100% - if I didn't then I wouldn't be doing it.
I know it's difficult for people to see why I would make the move but I am not looking at their recent results - instead to the effort they are making to bring success.
I'm not going there saying I will do a lot better than other riders have done previously but I will give my all whatever happens and I believe that will be good enough.
There would be no point in ever turning up on the grid thinking that your best is any less than any of the other guys. It doesn't always work out like that but that's the mentality you have to have.
The decision to leave Tech 3 was difficult as I'm very close to my team and to manager Herve Poncharal. He gave me the chance to come to MotoGP in 2011 and after two very good years together we've become close friends.
He did offer me a contract to stay but his own advice to me was to move. He wants me to better my career and to better myself and I appreciate that.
The decision to leave Yamaha wasn't so difficult. I had an option to stay but it wasn't what I was looking for. They couldn't guarantee me a factory bike - and the last time a satellite rider won a race was in 2006.
They made it clear if Jorge Lorenzo and Valentino Rossi want to stay past 2014 then there would be no space for me in the factory team. I would have found myself in the same situation at the end of next year.
I'm not angry at Yamaha, I'm just disappointed that I was in the wrong place at the wrong time with them.
I know the results I'm getting now will be difficult to have on the Ducati next year but there is a chance there for a fight in the future.
Everybody will go faster next year. Valentino will be faster in his second year back at Yamaha, Marc Marquez will go faster after a year's experience, Jorge's got new motivation. Ducati will have to step up to the plate and I will have to give everything I've got to be able to challenge, but I like racing when my back's against the wall. That's my mentality so why would I go into it thinking it won't work?
It's clear that Ducati are working hard. We don't know how that bike will be at the start of next year or even what bike they will finish this year with. I don't know what they will do but I trust in them.
As a factory rider I will have more freedom to give information for development, which is something that I am looking forward to being involved in.
Moving to an Italian team is also exciting as I have a lot of support there. The press and the fans in Italy seem to have really taken to me. I think they appreciate my never-give-up attitude but I know I will have to work hard to keep their support.
We have a holiday home in Italy that is being renovated at the moment. I am looking forward to spending more time there when it's finished. Mark Cavendish has a house nearby and is helping us with it. I think there may be a future for him in house designs after the cycling!
I can understand a bit of Italian but I might try to make my fiancee Lucy learn it so she can translate when needed!
I saw a picture of my face superimposed on Andrea Dovizioso's body in a newspaper recently and I think I looked good in red. It will be nice to change colour next year as black leathers get very hot in the sun!
At the Indianapolis track on Thursday I did a photoshoot with Bradley Smith and Michael Laverty in front of a union flag for a Silverstone GP promo. It's great that the excitement is building up already for our home race.
I might only bother turning up on race day though, as I normally have the rest of the weekend off there anyway! I made some stupid mistakes there the last two years by crashing out but at least it got some good press coverage!
Hopefully this year will be different though. It will be a busy weekend as usual but I'll be focused. I'll be giving it 100%, whether I'll be elated or disappointed at the end. I have my fingers crossed for a dry weekend, for us and for the fans.
We have nine races in 12 weeks now and my only focus is to keep working hard with Tech 3. They are like a family to me and I'd love to be able to reward them with a big result before I leave. If I could get my first MotoGP win with them I'd be very pleased.
Thanks for reading and stay tuned for more from me during the season. In the meantime you can follow me on Twitter.