MotoGP: Marc Marquez the man to beat in Indianapolis

By Steve Parrish
BBC motorcycling commentator
Last updated on .From the section MotoGP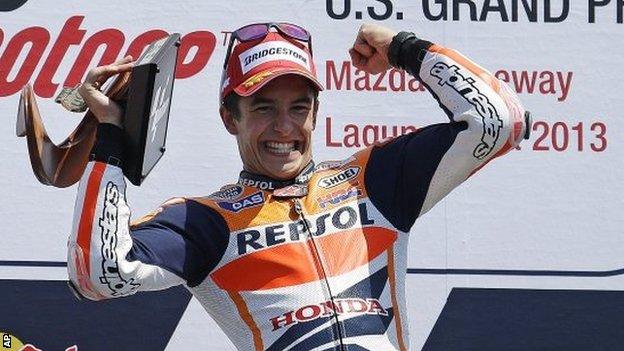 MotoGP returns from a month-long summer break at Indianapolis this weekend with new kid on the block Marc Marquez the man to beat as we enter the second half of the season.
Nobody would have expected the 20-year-old to be top of the pile at this stage of the season but I have to make him favourite to win the title now.
At the start of the season, I had Dani Pedrosa down to win, with the caveat that it depended on him staying injury free. He has not done that, while young Marquez has.
It is a huge ask to win the title in your first season - the last man to manage it was Kenny Roberts in 1978 - but Marquez is capable.
The first half of the season was always going to be the toughest for him but he has come through that. He is on a new bike, learning a few new circuits and settling into life in the MotoGP paddock.
I expected him to be crashing a lot and probably picking up injuries before coming on strong in the second half.
He has managed to exceed all expectations, especially his own, and he finds himself at the top, having arguably made fewer mistakes than anyone else. He has absorbed so much knowledge already.
Most of the riders have sensibly had a bit of a holiday this month. Many stayed in America after the last race at Laguna Seca and have been riding motorbikes of some form or another and just chilling out.
They will be training, going to the gym and keeping fit. They will not totally switch off and laze about by the beach drinking because they have had to get themselves ready for nine more races, but it is important to have some time away.
Pedrosa and Jorge Lorenzo will have used the time to recover from their collarbone injuries. Both say they are not yet 100% fit but they will be a lot closer than they were at Laguna.
There will be an element of caution from them this weekend but they are used to being injured and riding with injury so I am sure they will be back on full cylinders soon enough.
and, once the dust has settled on that, he will be in relaxed mood.
He is aware that this season is a really good chance to tuck away a win in MotoGP, he is on a bike at Tech 3 Yamaha which is almost capable and he has improved so much that we all think it is possible.
As for Indianapolis, it is a peculiar circuit with plenty of changes of surface. It caused problems last year with a lack of grip, which saw a lot of people crashing, including a big one which almost ended Casey Stoner's career.
But there is a special feeling about the place when you turn up. It is so enormous, it is hard to put into words; the fact that there is an 18-hole golf course swallowed up in the infield gives you a good idea of just how vast the place is.
There are enough seats for getting on for half a million people, which is ridiculous. Unfortunately, that means that it can look pretty empty on race day, even though there should be a decent crowd of 50,000 or so.
Double world champion Stoner has been back on a bike in the break, testing for Honda. He says he is not going to do any "wildcard" races this year but we have heard plenty from him down the years and I would never say never.
He will have enjoyed riding the bike again. It is one of the most exhilarating things you can do in life and I am sure Honda will have taken plenty of knowledge from his ride. Ducati could do with getting him back on their bike for a day! He might sort it out.
Ben Spies is back this weekend after missing seven races with a shoulder injury. Shoulder problems can be particularly troublesome, so he must come back strong or his career in MotoGP may well be over.
Steve's Indianapolis predictions:
1. Marc Marquez 2. Dani Pedrosa 3. Jorge Lorenzo
Steve Parrish was talking to BBC Sport's Tom Rostance