Barry Sheene: Motorcycling's first superstar remembered
Last updated on .From the section MotoGP125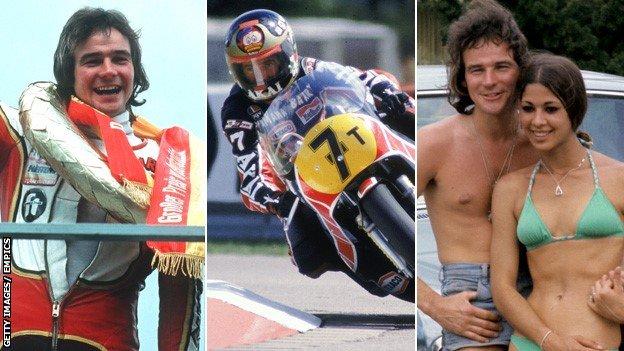 Lying in his hospital bed, Barry Sheene reeled off the injuries he'd suffered as if he was reading a shopping list.
"Broken femur, collarbone and ribs, busted wrists and forearm, and a lot of skin off in the wrong places..." Then, with a wry smile, he added: "Other than that, I feel brand new."
A day earlier, Sheene had been flung from his bike at 170 mph during testing at the Daytona Speedway Circuit, ripping his racing suit apart and leaving his body twisted and broken.
The whole episode, captured in a 1975 documentary, encapsulated why Sheene was such a star and why today, 10 years on from his death, he remains one of the best-known and most respected riders in the history of motorcycle racing.
"Barry was the Cockney kid made good," says Steve Parrish, his Suzuki team-mate in 1977 and 1979, "the lad who would have a fag and a beer before a race.
"He was adored by his fans because he adored them, always spending time meeting them and signing autographs. He just had this amazing ability to befriend people."
Sheene also partied with Formula 1 star James Hunt and the Beatle George Harrison, owned a Rolls Royce and helicopter, and was frequently photographed with model girlfriends. It was little surprise that he featured on the front and back pages of the newspapers.
Yet behind this playboy persona was a man fiercely dedicated to his craft.
"Barry worked much more than just twisting the throttle," adds Parrish. "He spoke three or four languages because he knew that if he could communicate with all his mechanics, he could get better equipment from those supplying his bikes.
"There was this huge respect for him in the paddock, not just for his sense of humour but also his technical ability. He would even help rivals sort their bikes out."
After bursting onto the scene in 1975, Sheene won the 1976 500cc world championship - the premier class of motorcycle racing - and retained the title the following year.
What people also loved about Sheene was his ability to overcome extreme adversity.
Twice he was involved in major crashes that could have claimed his life, let alone ended his racing career.
The first was in 1975 at Daytona, but within seven weeks he was racing again. Four months later he won the Dutch TT at Assen, the first of 19 grand prix wins.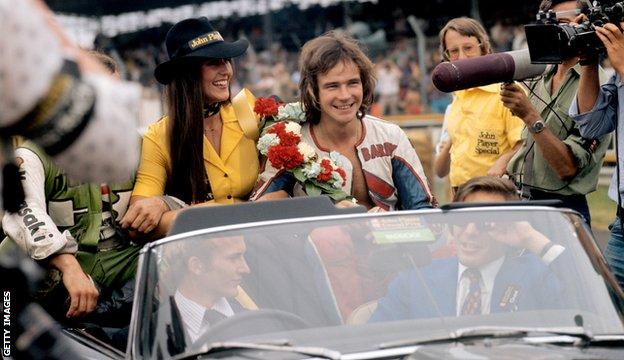 Sheene again defied death seven years later when a collision with another bike during practice for the British Grand Prix saw him engulfed by a fireball.
His legs were so badly injured that they were likened to crushed eggs by doctors and he was told he might never walk again. Instead he was back on a bike within nine weeks.
"People called him Bionic Barry," says Nick Harris, author of the biography 'Barry' and a journalist who covered all of Sheene's major races.
"He would set off metal detectors at airports because he had that much metal inside his body. His mental resolve never wavered despite being involved in two horrific accidents."
Sheene did race again after the Silverstone crash, but in truth he was never the same force and in 1984 retired from racing altogether.
He married his long-time partner Stephanie McLean, the model and former bunny girl, and emigrated to Australia, where they had two children, Sidonie and Freddie.
"He was a really good father," says Sidonie, now 28. "Both my brother and I were sent to good schools. He really wanted us to get a good education and to be able to know he did his best bringing us up.
"He was strict with me, not so much my brother. I was kind of daddy's little girl and he didn't like any of the boyfriends I had - none of them were good enough.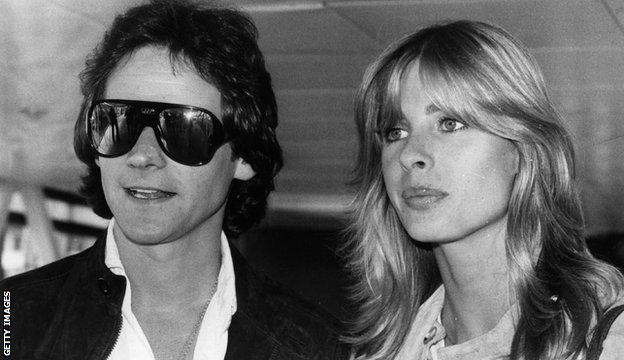 "He was not completely strict. When I was at boarding school he used to post me cigarettes and I was allowed to drink at home when I was younger. But he raised me with the right morals - to treat people how I would want to be treated."
Sheene may have mellowed - his musical favourites were now the Fine Young Cannibals and Simply Red - but he did not completely leave the rock and roll lifestyle behind.
On more than one occasion he picked his children up from their boarding school in a helicopter, much to the annoyance of the headmaster, while he continued to enjoy nights out with famous friends.
"I remember once when I was about 15 and I went out clubbing with friends and my parents did not know I was out," Sidonie says. "However while at a bar I ran into my dad, who was also out. It was hugely embarrassing and I said 'don't tell mum I'm out' but he told me not to tell mum that he was out!
"George Harrison would sometimes come over to stay. He had a lot of famous friends but I didn't think much about it because to me they were just my parents's friends."
In July 2002, at the age of 51, Sheene was confronted with a battle even he could not win, when he was diagnosed with cancer of the oesophagus and stomach.
"We were brought home from boarding school for a week and knew something was not right," Sidonie remembers. "We sat down on the couch when we got home and he told us.
"I instantly started crying hysterically. He insisted it was fine, that he would get rid of it and we would come through it."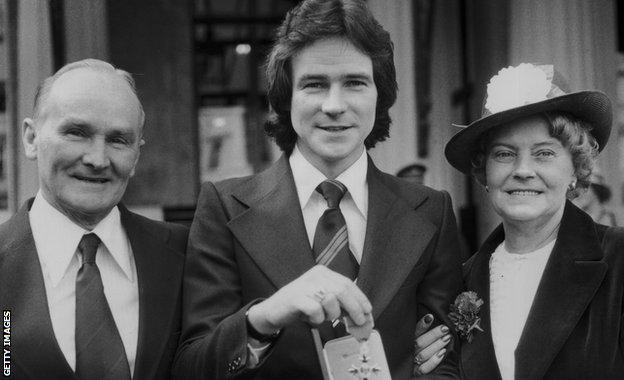 Sheene chose not to have surgery or undergo chemotherapy, instead putting his faith in natural treatments.
"There was nothing we could do about that," says Sidonie. "I was obviously not happy because I wanted him around for as long as possible, but he didn't want people to see him sick. He didn't want people to remember him that way."
Sheene died on 10 March 2003 in a hospital on Australia's Gold Coast, surrounded by his family.
This weekend there will be a special tribute to the motorcyle legend at Silverstone ahead of Sunday's British MotoGP race. Sheene's son Freddie, his brother-in-law Paul Smart, nephew Scott Smart and Parrish will each ride one of his championship bikes on a lap of the famous Northamptonshire circuit.
Sidonie will be there watching. "There is not a minute that goes by that I don't think about him," she says.
"Whenever I see a helicopter fly overhead it reminds me of him. And when I make a decision, I never take the easy way out, because my dad never did."