MotoGP: Cal Crutchlow can be inspired by Silverstone fans

By Steve Parrish
BBC motorcycling commentator
Last updated on .From the section MotoGP54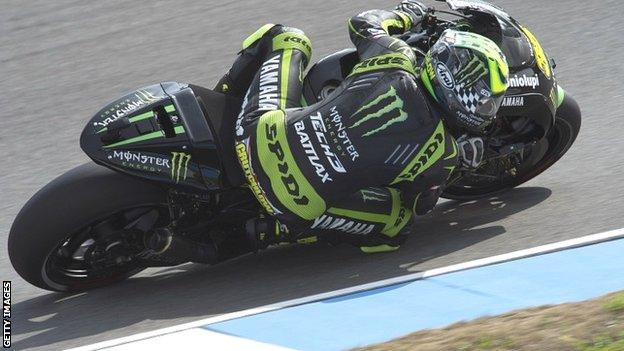 It has been a big year for British biking and this weekend is a chance for us all to celebrate that fact at the British Grand Prix at Silverstone.
With the success of Cal Crutchlow, Scott Redding and Bradley Smith, we've not had it better since the halcyon days of my old team-mate Barry Sheene.
We pay tribute to Sheene this weekend with a parade lap to mark 10 years since his death and I hope the racing will also deliver some new memories for the home fans who will be there in their droves.
Sheene was the last British rider to win a premier-class grand prix. He won the 500cc race in Sweden in 1981 - four years before Crutchlow was born.
With the announcement which is expected this weekend that Scott Redding is moving up to MotoGP next year to join Crutchlow and Smith, it means there will be three British riders in 2014 who are all capable of top-10 finishes with potential to challenge for the podium.
We haven't had a British winner of any championship since Sheene won the 500cc title in 1977, but Moto2 leader Redding looks like ending that long wait this year.
The one thing we're missing is a MotoGP win, but Yamaha Tech 3 rider Crutchlow has come so close.
He was back on pole position at Brno last weekend and his speed is right up there with the best in the world, but winning races is another challenge altogether. He crashed out last week trying to keep up with the best three riders in the world - that's how difficult it is.
He struggles in the first few laps with a full tank of fuel and that's the difference at the moment. There is no time to give an inch to the likes of Marc Marquez.
The British lads will say it's lovely being at your home race but the reality is it's a nightmare and Crutchlow will feel like Valentino Rossi this weekend. He won't get a minute's peace; he will have people banging on his motorhome door, wanting photographs, autographs, you name it. He will have long-lost family members and acquaintances wanting his time.
The plus side is there will be thousands upon thousands of Union Jacks flying, Crutchlow and Redding banners and T-shirts; it will be a carnival atmosphere and it can inspire them.
Crutchlow has just got to get through qualifying unscathed on Saturday. He has crashed in qualifying at Silverstone in both of the past two years and injured himself, including his epic ride last year when he finished sixth with a broken ankle.
If he can keep it upright this weekend, then you have to say he will be in with a chance of that elusive win. And if he is only ever going to win one, he may as well make it a home GP.
It will be an extraordinary atmosphere at Silverstone; it will be like being at Wimbledon this summer - when Andy Murray ended Britain's 77-year wait for a men's champion - if Crutchlow is fighting for the win. Unlike Henman Hill or Murray Mount, there is no Crutchlow Cliff though, as Silverstone is too flat!
People have been waiting for years to see a Briton up at the front. It could happen on Sunday.
Steve Parrish's Silverstone predictions:
1. Marc Marquez 2. Dani Pedrosa 3. Cal Crutchlow