Unlucky Cal Crutchlow can overcome British MotoGP woes

By Steve Parrish
BBC motorcycling commentator
Last updated on .From the section MotoGP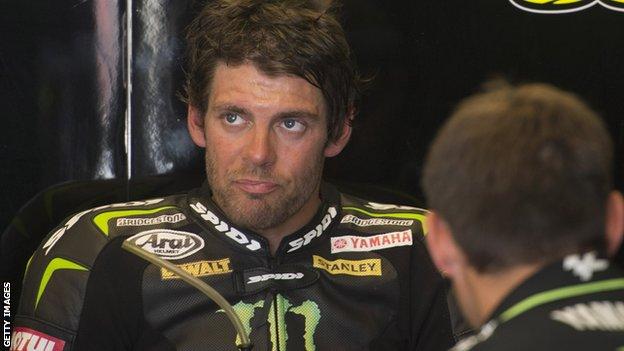 Cal Crutchlow must wonder what he has to do to get some luck at the British Grand Prix.
Seventh place is not a disaster, and at least he didn't break anything and is able to go to the next race, but I'm sure he's still pretty down.
There were high hopes for him to be up there fighting for a win after the superb season he's had and it all looked so good on Friday. He looked super calm, but the "hometown hero" effect took over and he crashed heavily three times before the race.
You saw him sat in the gravel shaking his head - he was angry with himself but you don't mean to make mistakes. No matter how much you brace yourself for it the pressure of being at centre of attention can get into your head.
It would be a shame if the season petered out for Cal now. He has sorted his future out and signed for Ducati but it seems he has lost direction a bit with the Yamaha.
They have changed fuel tanks and various things to try to improve his performance in the first few laps of each race but maybe it is time to go back to how the bike was earlier in the season.
Back at the front, Marc Marquez continues to astound us all. Three hours after dislocating a shoulder, I don't think anyone can believe how he managed to race as he did.
You could see how much pain he was in when he crashed - he had that stunned look on his face. Any dislocation is extremely painful and he must have been worried about the championship.
But his team told me that he dislocated a shoulder in 2010, had it pushed back in and was able to race.
He has somehow managed to do it again. He must have supple joints - it's another benefit of being young!
Marquez all but won the race but was just outfoxed by Jorge Lorenzo right at the end.
If Marquez keeps himself clean I can't see how he can be stopped in the race for the title.
I expected him to fade in the last few laps, as riders carrying injuries tend to, but you wouldn't know he had an issue at all.
He is an interesting contrast to Lorenzo. If you watch them ride after the other you would be convinced that Marquez is always travelling at least 20mph faster.
He is spectacular to watch, he's ragged at times, whereas Lorenzo is so smooth that at times he looks slow. They have totally different styles which reflect their backgrounds. Marquez has come from Moto2 which is aggressive racing whereas the 250cc class that Lorenzo made his name in rewarded precise, smooth riding.
In the Moto2 race Scott Redding got the job done brilliantly to win and made the day special for the 73,000 crowd. He was solid as a rock, had it all under control and he has this championship sorted now. He has all the momentum.
It was a poignant day for me personally, riding Barry Sheene's 1979 Suzuki in the tribute to my old team-mate, who died 10 years ago. It was lovely to be with Barry's family and we got a tremendous reception going around the circuit, everyone was cheering and waving which was great.
We would rather Barry was here of course but it was a great way to remember him on another great day in front of the British fans.