MotoGP: Has Dani Pedrosa blown his best title chance?

By Steve Parrish
BBC motorcycling commentator
Last updated on .From the section MotoGP37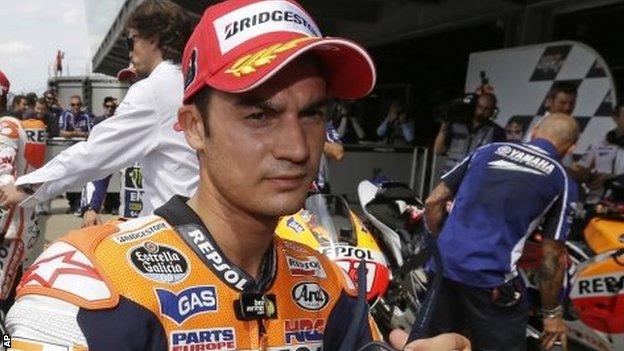 Another round of MotoGP action this weekend at Misano; and another weekend of wondering if anyone can stop Marc Marquez from winning this year's title.
The 20-year-old has been nothing short of sensational in winning five races and opening up a 30-point lead over Repsol Honda team-mate Dani Pedrosa.
There are just six races left now, 150 points to play for, and if Pedrosa really wants to win his first MotoGP title then it's now or never.
The fact is Pedrosa has been too cautious this season. He was my tip to win the title this year and, to be honest, he's let me down.
It's like he doesn't want to step up his game. He's had a collarbone injury but he's not done enough since he came back. At the end of last year he was untouchable but he made a slow start to the season and just can't seem to live with the rookie Marquez.
This may be the best chance he ever has of winning the title and it looks like it is slipping away now.
He's finished second in the championship three times already, third on another two occasions, and he may end the season with another runner-up spot.
This is his eighth season in MotoGP and although he's only 27 and will have plenty of years left, you wonder if he's destined never to win the title now.
World champion Jorge Lorenzo took a very important win at Silverstone last time out, with Marquez nursing an injured shoulder, but he will also be scratching his head about the youngster's form.
We are just running out of superlatives for Marquez. He will be 100% fit this weekend after his Silverstone crash and I don't know what the other riders are going to do.
The one thing that may trip him up is an injury or a loss of confidence after a big crash - but he's had a few big ones this season and just motored through regardless.
A lot of the greats have come unstuck with injuries early in their career but at the moment Marquez seems able to dust himself off and get on the bike.
When they have a big lead, some riders will change their style to be more conservative and protect the championship position, take second and third places and see it out, like Lorenzo did last year.
That's arguably the sensible thing to do, but I don't see Marquez doing that. He will try and win races, that's the kind of happy-go-lucky kid he is.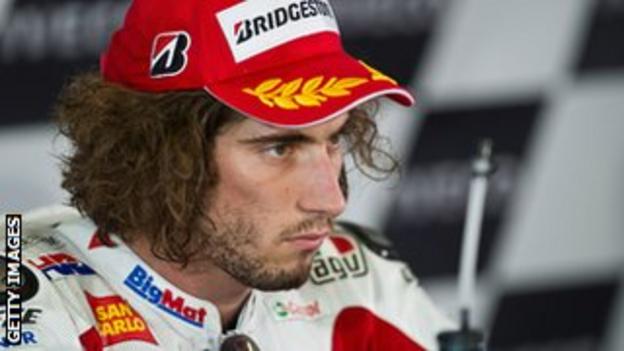 It's not like this is his one big chance to take the title - he is so far ahead of expectations already, why should he change?
It is also a massive weekend for Valentino Rossi fans - he finished second at Misano last year and the place went crazy.
You won't be able to get into the paddock. I have no idea where everybody gets their passes from for the two Italian rounds at Mugello and Misano - you can't move all weekend, it will be full-on 'Rossimania'.
The circuit has been named after the late Marco Simoncelli and there will be plenty of banners, flags and tributes to him again this weekend as we approach the second anniversary of his death at Malaysia.
He was a huge talent and we can only imagine how good he would be now. The racing will no doubt be excellent this weekend but if we had been lucky enough to see Simoncelli dicing with Marquez, Pedrosa, Lorenzo, Rossi and Cal Crutchlow then it could only have been better...
Steve Parrish's Misano predictions:
1. Marc Marquez 2. Jorge Lorenzo 3. Dani Pedrosa