MotoGP: Marc Marquez must play it safe, just like Jorge Lorenzo did

By Steve Parrish
BBC motorcycling commentator
Last updated on .From the section MotoGP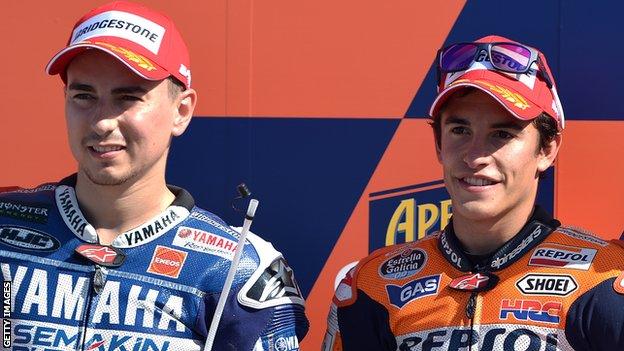 After winning the last two races, Jorge Lorenzo has got a bit of momentum going.
He is fit and well, having broken his collarbone twice in the space of a couple of weeks, and he is going to need to stay that way if he is to keep up the challenge on championship leader Marc Marquez.
Lorenzo's win in the San Marino Grand Prix on Sunday was a comfortable one.
From the lights going out he was straight out of the blocks, he put in two amazing laps and pretty much broke away from the chasing pack.
It was a textbook race from him, he pretty much didn't put a foot wrong.
The big battle was between the two factory Hondas. Marc Marquez - the championship leader - and his team-mate Dani Pedrosa.
Pedrosa had the upper hand early on before Marquez caught him.
They had a good couple of laps of nearly running into each other and swapping places before Marquez took control. You got the feeling Pedrosa put in a huge effort and threw everything at it, but it just didn't work out.
The good news for Lorenzo was that while those two were tripping over each other, he was able to escape, build up a four-second lead and cruise home.
Lorenzo needs to keep giving everything, win as many races as he can and see what happens.
But he knows that even if he does win them all, finishing second in races will be enough for Marquez.
The key now for Marquez will be for him to keep his nose clean. He knows he has to defend his lead and he would be an idiot to crash trying to win races, so he just has to play it safe.
It is a lot like the latter stages of last season, when Lorenzo was leading Pedrosa.
Lorenzo finished second in four of the last five races while Pedrosa kept on winning.
However, those results were enough to ensure Lorenzo won the title, despite Pedrosa's best efforts.
Having said that, finishing second in races will be no guarantee for Marquez.
There are still riders like Pedrosa, Cal Crutchlow and Stefan Bradl who can challenge for podiums. It is not a simple task and sometimes when you are cruising around you can make more mistakes.
Then, of course, anything can happen in motorcycling. A rider can break a wrist at any moment and put them out of races, as we have seen already this season.
Keeping your nose clean is effectively keeping out of hospital.
There are still five races to go and we will see just how mature a rookie like Marquez can be.