Honda will not penalise Marc Marquez over Dani Pedrosa crash
Last updated on .From the section MotoGP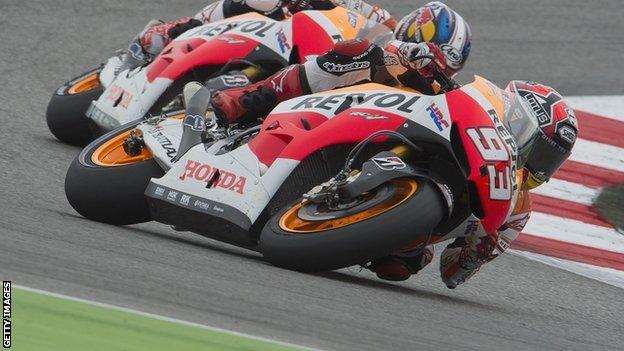 Honda team principal Livio Suppo says there will be no team orders following the clash between Marc Marquez and Dani Pedrosa in Aragon.
Pedrosa, who crashed out of the race after contact with Marquez broke his traction control system, accused his team-mate of riding "over the limit."
Suppo denied HRC would speak to Marquez about his riding, saying "It's in the nature of the riders to be aggressive.
"We didn't have team orders before and we don't have them now."
Both riders have been summoned to a hearing at the next race in Sepang next month to "technically analyse the Aragon race incident".
Marquez and Pedrosa have regularly made contact without incident during races this year until the 14th round of the championship at Aragon.
Suppo said there was no need for Honda to manage the situation between the team-mates.
He told BBC Sport: "Once the riders are on track there's no team, they are competitors. They are not stupid; they know that it is a dangerous game so they'll never do something deliberately.
"I think they learn from experience rather than speaking with them."
After taking victory at Aragon, Marquez leads the championship by 39 points over Yamaha's Jorge Lorenzo, with Pedrosa a further 20 points behind with four races remaining.
The Spanish rookie was the centre of controversy earlier this year after an incident with reigning world champion Lorenzo during the Jerez Grand Prix.
He has twice received sanctions from Race Direction for incidents in Moto2 and this year he received two penalty points in MotoGP for an incident at the British Grand Prix where he failed to slow down for yellow flags during warm up, subsequently crashing and causing a near-miss for marshals attending to Cal Crutchlow.
Suppo said: "Sometimes Marc is a little bit too aggressive. Maybe the fact that he has not so much experience in MotoGP means sometimes a small mistake in braking can be a problem like in Aragon. So he needs to try to manage these kinds of things."
Meanwhile, Race Direction official Javier Alonso told motogp.com about the incident: "What needs to be understood is whether this could have been avoided - both the incident between the two riders and the accident itself - because those are the two important aspects.
"Once we understand all of this, if we are required to take a decision we will take the most suitable one."