MotoGP: Marc Marquez will keep cool in the Sepang heat

By Steve Parrish
BBC motorcycling commentator
Last updated on .From the section MotoGP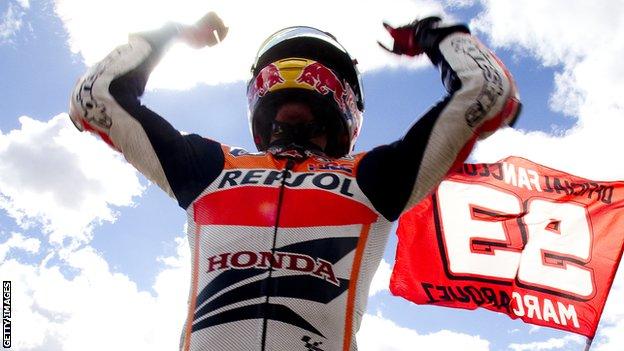 It's hot, it's humid, it's long - and it's also the most demanding race of the year.
With three races and 75 points to play for in the next three weeks, the MotoGP season is coming to a rapid end and the riders face a huge physical test in Malaysia this weekend.
Temperatures at the Sepang circuit, which lies around an hour south of Kuala Lumpur, can reach 35C - but the biggest problem is humidity.
Step outside of your car or an air-conditioned building and within seconds you are dripping wet.
It's uncomfortable walking around in a light shirt so you can imagine how bad it is throwing a 150kg bike around in a full set of leathers, helmet and gloves.
Luckily, the riders these days are supremely fit. They will be taking on litres of fluid throughout the race and will have stringent preparation leading up to it.
The likes of Bradley Smith, Nicky Hayden and Cal Crutchlow have been out there since last weekend, and will have spent plenty of time cycling and running in the heat and humidity to get used to it.
But there's no doubt that 20 laps of the 3.4 mile circuit - the second-longest track on the calendar behind Silverstone - will take it out of each and every rider.
To make the race even trickier, it tends to rain at 2pm every day.
That means that it could be a wet race, and we've had a few of those down the years. Dani Pedrosa won last year's race in very bad conditions, and you never know what you are going to get.
Championship leader Marc Marquez is looking nailed on for the title, although he was given a penalty point following a meeting of the stewards on Thursday morning for his part in Repsol Honda team-mate Pedrosa's crash in Aragon last time out - where Pedrosa crashed after the slightest of touches from Marquez dislodged his traction control cable.
Marquez, 20, was given two penalty points for not observing yellow flags in a practice crash at Silverstone earlier this year.
He was given one further penalty point on Thursday morning - one point more and he will have to start the following race from the back of the grid.
It was so unlucky for Pedrosa, if you replayed the incident a thousand times you wouldn't be able to snap that wire again. If anyone is to blame, it's the team for leaving the wire exposed where it was.
Marquez went into the corner a bit hot, he took avoiding action and brushed Pedrosa - but that's all it was. We see that hundreds of times a season.
He has a reputation for being wild and aggressive but he's 20 years old. He's new to the class and he's leading the championship by 39 points by riding that way.
Does he need to calm down? I don't think so.
Fans love him, he's becoming so popular. When people talk to me about MotoGP it has always been Valentino Rossi they want to hear about - now it's Marquez. He's becoming the superstar of the sport.
He has been on the podium in every race apart from one which he didn't finish at Mugello, and nobody would have predicted that at the start of this, his first, season. He is now in a position where he can afford to finish third in every race and still win the title.
Jorge Lorenzo, who is second in the standings, looks resigned to defeat to me. It's Marquez's to lose now and he can only do that if he fails to finish at least once race.
Unlikely? Yes. But as we keep saying that could easily happen. Just ask Dani Pedrosa...
Steve's Sepang predictions:
1. Marc Marquez 2, Dani Pedrosa 3. Jorge Lorenzo
Steve was talking to BBC Sport's Tom Rostance