Marc Marquez shows maturity to extend MotoGP lead

By Steve Parrish
BBC motorcycling commentator
Last updated on .From the section MotoGP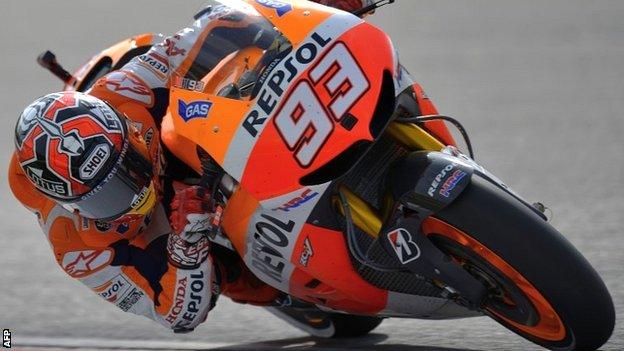 Dani Pedrosa took his third win of the season here in Sepang but the real race was for second between Marc Marquez and Jorge Lorenzo.
They were clashing and bumping and shoving a fair bit which was enthralling. One of them could easily have fallen off but they didn't, and Marquez in the end managed to pull away to extend his championship lead to 43 points with three races left.
If he gets seven points more than Lorenzo in Australia next week then the championship will be his, in his first season in MotoGP, which will be exceptional to win so early.
Marquez has spiced up the championship and lifted the game more than I could have believed.
He seems to take more risks than most of the other guys and he's great to watch - we all love him.
He's on the edge of everything, his tyres, his elbows and his knees - he just is the fastest guy on the track at the moment, he's chasing a championship and trying to be careful but he doesn't really know the meaning of the word.
But considering he's a young fearless rider that charges and wants to win everything, today was a very good sign that he's looking to get a championship wrapped up and he definitely showed a mature side.
I think he looked at the gap between himself and Pedrosa, realised the sort of risks he was going to have to take to win and sat back and sorted it all out. It was a very mature ride from a very young man. You expect mistakes from a rookie, yet he seems to be making very few.
It's hard to make comparisons through different eras because we've had so many greats over the years, going back to Mike Hailwood from the UK, Barry Sheene, Mick Doohan and Valentino Rossi, whose nickname is goat - Greatest Of All Time.
Realistically, Marc Marquez has done more in his first year than any of the other greats, in the way he has won more races, accumulated more points, had more pole positions, more fastest laps. His record up until now surpasses anybody I've ever witnessed.
He's very unorthodox, he hangs off the side of the bike more than anybody we've ever seen.
Some of the older stalwarts said his style would never work in this class, that it might be all right in the smaller classes but he would have to change his style.
Well, it has been completely the opposite, we're seeing more and more riders taking up his style, fitting elbow pads and copying him.
He's changed the style; tyres and motorcyles change but he seems to have adapted a style that works and I don't think he needs to change it in any way.
What's going to happen now, because he has proved he is going to be Honda's number one rider this season and almost certainly next season, is that Honda will build a bike that suits him.
When he came into the championship this year he really adopted a bike that was built around Casey Stoner, so Marquez will now have a Honda built to his specifications.
It has been great to analyse Marquez with all the modern technology we have at the BBC now. The high motion cameras are fantastic and it's great to capture what's actually happening underneath the rider, the way he distributes his weight, the lean angles they get, all the parts of the body that are rubbing, it is sensational to watch.
The engineers learn information from these cameras that they never had in the past and can put that to good use.
Lorenzo's third place leaves him only 11 points ahead of Pedrosa and the defending champion is going to have to lick his wounds.
The Yamaha isn't the best package now. They've been giving him a few updates but it looks to me that the Honda is the faster bike. It has two great riders but if you put Lorenzo on a Honda he'd be right at the front battling for wins.
At the moment he's got to work with the team, the engineers and all the development people and try to come back stronger next year.
He hasn't really put a foot wrong this year, the big problem was he broke his collarbone on two occasions in two weeks. But he would be the Roger Federer of the sport. He's very efficient, has a very smooth style, never looks flustered and gives it 100% the whole time, but 100% at the moment isn't enough.
I did think it would be him or Pedrosa that would win the championship through consistency because I couldn't believe a young 20-year-old in his first season could be a solid as Marquez has been.
It's not impossible that Pedrosa could take second place, he's got the smell of blood now and in theory Marquez, although there's not a lot of love lost, could let Pedrosa through if he was leading and Pedrosa was second.
But Marquez is disliked by all of them because he's the new kid on the block, they all think he's a young lunatic!
British rider Cal Crutchlow was sixth and stays fifth in the standings. He had a solid ride, he's still got the sore arm he's had from Silverstone which needs an operation, but he got beaten by a better motorcycle, not a better rider.
And in the Moto2, Scott Redding had a tough weekend. He was 38 points clear at one stage this season but he finished seventh and his lead is down to nine now. He's a big lad and lost out on a lot of speed here on the long straights.
The circuit in Australia next week could be much better for him and I expect him to be much nearer the front but then we go back to Japan where it's about speed again, so he has to make hay at Phillip Island while he can.
Steve was talking to BBC Sport's Jamie Lillywhite