MotoGP: Marc Marquez can win for years, says Jorge Lorenzo
Last updated on .From the section MotoGP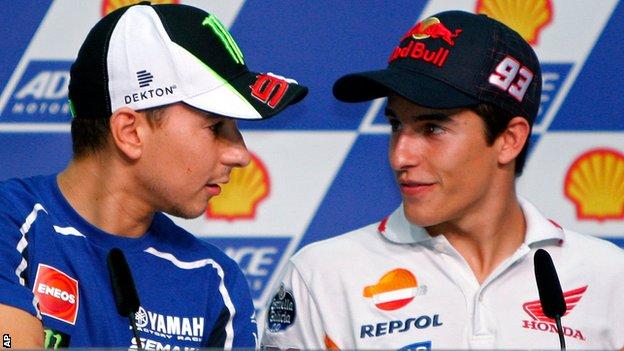 Defending champion Jorge Lorenzo has backed Marc Marquez to dominate MotoGP "for many years".
Marquez, 20, can win the title at the Australian Grand Prix on Sunday following a stunning debut season.
He holds a 43-point lead over Lorenzo and will be champion if he takes eight points more than his fellow Spaniard.
Lorenzo said: "He will not only be world champion this year but maybe for many years. He is talented, fast, ambitious and brave."
Yamaha rider Lorenzo has won five races this season but has been unable to match the consistency of Marquez, who has won six times and finished on the podium in every race bar one.
Lorenzo said: "We have been watching one of the most incredible riders that has come into a new category in history.
"Obviously you need to have all the cards in your hands and he has this with a very good team, bike and sponsor. The tyres are easier than before and everything together makes him so competitive.
"It is because he is a phenomenon, but he also has the best tools he can have."
With 75 points still to play for, Marquez looks certain to win the title and become the first rookie to take the championship since Kenny Roberts in 1978.
But he admits that he did not expect to be challenging in his first season.
"I didn't expect to be this strong to be honest. In my best dreams it was impossible to think that," he said.
"I expected to be competitive and in my best dreams it was to try and be third."