MotoGP: Jorge Lorenzo must go for broke as title race hits Japan

By Steve Parrish
BBC motorcycling commentator in Japan
Last updated on .From the section MotoGP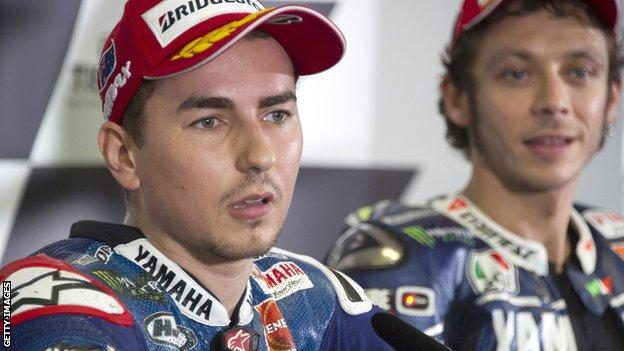 Tyre failures, pit stops, disqualifications and broken wrists - it's fair to say that last weekend's Australian Grand Prix had it all.
MotoGP championship leader Marc Marquez's dramatic has delayed his coronation and makes this weekend's trip to Japan a lot more interesting.
Marquez, 20, remains the odds-on favourite to take the title, but Lorenzo now has a slim chance of defending his crown.
Jorge will be giving it everything, and it's win or crash time for him now. He has everything to gain and absolutely nothing to lose, while it's the complete opposite for Marquez, who will take the title in Japan if he scores eight points more than Lorenzo.
He will have to be careful because another non-finish for him would put Lorenzo in the driving seat.
Lorenzo has had a huge lift. There is a light at the end of the tunnel now and he must be starting to believe that he can retain his championship. In his own words, he had a 3% chance before Australia and now it's 30%.
We have been saying for several months that it only takes one failure from Marquez to open the title race back up and he has had it. I can't begin to imagine what the post mortem has been like in the Repsol Honda team.
There was a massive communication breakdown and the two sides of the garage didn't speak to one another. To have a situation where Dani Pedrosa was able to come in and change bikes and his team-mate Marquez didn't is just bizarre.
Surely there should have been a chat about which rider was coming in on which lap? The rules and regulations were changing on an almost hour-by-hour basis, but these are professional teams.
If your rider is the world champion elect, it is up to you to make sure there are no errors of that size. It was staggering really. I will try to conduct a head count in the Repsol team to see if anyone has gone!
and I stand by that.
In the paddock, three back-to-back races and plenty of long-haul flights have left everyone drained, and to make matters worse there is a typhoon on its way to Japan by all accounts.
Whatever the weather throws at us this weekend though, we will struggle to have as chaotic a race as last weekend.
The Motegi circuit in Japan will suit the Hondas - it's owned by Honda for a start - and there are four long straights which suit the Honda more than the Yamaha. Cal Crutchlow ran out of fuel there last year so teams will have to keep an eye on that, particularly if the weather is hot.
In the Moto2 class, in Australia, breaking his wrist, and I really think there is little chance of him winning the title now.
The fact that so much of the lap at Motegi is hard on the brakes means it will be very hard for him to be competitive with an injury like that. but he probably needs to win both races to take the championship and that looks hugely unlikely now.
You don't get many chances to win titles in your career and this is an opportunity that has disappeared from under him. But whatever happens, Scott has made a big leap forwards this year and is now ready to move into MotoGP for next season.
Steve's Motegi predictions:
1. Dani Pedrosa 2. Jorge Lorenzo 3. Marc Marquez
Steve was talking to BBC Sport's Tom Rostance