Moto GP: Japan practice cancelled because of thick fog
Last updated on .From the section MotoGP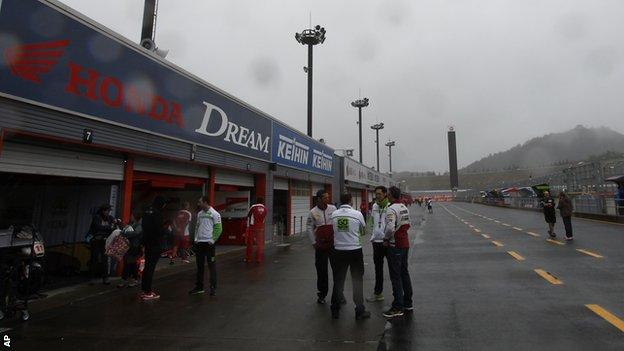 All of Friday's practice sessions for the Japanese MotoGP have been cancelled because of thick fog.
The Moto2 and Moto3 sessions were also called off at the Twin Ring Motegi.
The decision was made over safety concerns with the circuit medical helicopter unable to fly and the nearest hospital an hour away by road.
Spaniard Marc Marquez, 20, could win the championship this weekend with the rookie having an 18-point lead over Jorge Lorenzo with two races left.
"We are not prepared to run in these conditions when there is a risk that a seriously injured rider could not be given correct care," race director Mike Webb said.
Organisers said a 75-minute free practice session could be scheduled on Saturday afternoon but added that further adverse weather conditions could present problems.
"We expect more heavy rain on Saturday morning, but rain is not the key problem, it is low cloud cover affecting visibility," they wrote on Twitter.
"We are still committed to running this Japanese Grand Prix for all three classes."
Outlining his contingency plans, Webb added: "Nothing is fixed because it depends on the weather, but I'm aiming at 75 minutes for MotoGP and perhaps a little shorter for other classes.
"Taking into account the shortage of daylight at the end of the day, we will just run for as long as possible."
A draft plan has also been made for Sunday of 40 minutes for each qualifying session, although a single, longer practice run rather than two would also be considered.
"The original weather forecast when we arrived here was that the nearby typhoon would be quite close with very strong winds," added Webb.
"However, in place of those strong winds we have had low cloud cover which has been a lot worse (disrupting track action).
"We are still expecting heavy rain tomorrow morning, but rain does not stop the helicopter from flying - that all depends on the visibility."