MotoGP: Nicky Hayden's 2006 title win shows nothing is certain

By Matt Roberts
BBC MotoGP presenter
Last updated on .From the section MotoGP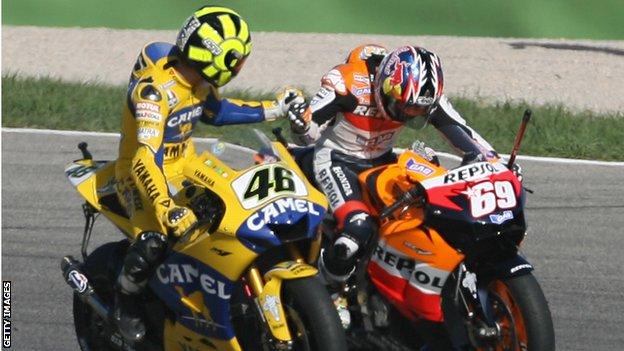 Sunday sees the final MotoGP race to be broadcast live on the BBC and, for the first time since 2006, the World Championship goes down to the wire.
Leading Jorge Lorenzo by 13 points, Marc Marquez needs 12 more to make certain of the championship at Valencia - meaning fourth place will be enough even if Lorenzo wins the race.
With Marc having been on the podium at 15 out of the 17 races so far, his coronation in front of a capacity home crowd may seem like a foregone conclusion but the beauty of motorcycle racing is that no such thing exists. You only have to look back to that memorable race seven years ago for a reminder.
After a difficult season littered with mechanical failures and crashes, Valentino Rossi arrived in Valencia in 2006 leading the championship by eight points from Nicky Hayden - his cause helped by a dramatic turn of events in the previous round at Estoril, when Hayden was wiped out in a collision caused by team-mate Dani Pedrosa.
The footage of Nicky's desperate trudge across the gravel, screaming profanities at Pedrosa and the Portuguese sky, provides some of the most iconic images of modern-day MotoGP, but not even he could have predicted just how dramatically the pendulum could swing back the other way within the space of a fortnight.
Essentially needing another disaster for Rossi in a season that had already seen the Italian endure a decade's bad luck, Nicky's hopes were slim at best but on arrival at the Ricardo Tormo circuit, he maintained his usual positive attitude, changing the traditional "Kentucky Kid" moniker stitched on the backside of his leathers to a stack of gambling chips, a poker hand and the words "ALL IN".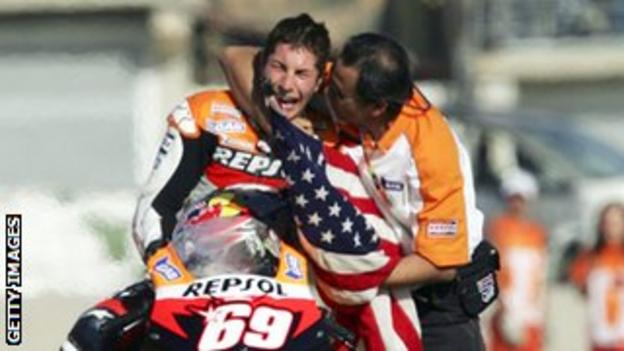 After qualifying, however, the odds were stacked even more heavily against him, Rossi taking pole position after also lapping fastest in two of the three free practice sessions, with Hayden starting from fifth place.
What actually happened on race day has baffled fans and experts ever since but Casey Stoner, of all people, offered his take on events in his recently published autobiography Pushing The Limits.
Stoner had endured many problems during 2006, his rookie season, principally with Michelin tyres. His main issue was he was often unable to use the same spec rubber over a whole weekend; often he would find a tyre that worked for him in practice but would then be told he could not use it on race day.
He believes he and other satellite riders were left with front and rear combinations that didn't match.
As a factory Yamaha rider, Rossi had rarely suffered with such problems. However, relationships between himself, Yamaha and Michelin had become fraught over the course of that season and he had twice retired due to tyre issues.
At Shanghai, a chunk came out of his front tyre, forcing him to pit and almost certainly costing him a podium finish - resulting in a public apology from Michelin - while at Laguna Seca he again had to pull in, this time with severe degradation on the left side of the rear tyre. It was an issue that also affected his Yamaha team-mate Colin Edwards but had not been a major problem for the Hondas of Hayden and Pedrosa.
In Valencia, Rossi made a dreadful start, missing the jump and conceding positions to five riders into turn one - including Hayden and Stoner.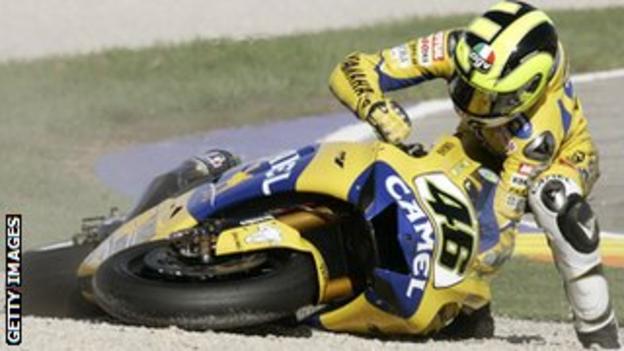 "As soon as the lights went out Valentino was in trouble," recalls Australian Stoner. "I was one of six riders to pass him on the first lap and if you watch the footage you can see how much he is struggling to even keep up with us. His rear and front tyres were just not working together and on lap five the front inexplicably folded and he went down, right behind me.
"It is only my theory but I wonder if he was given a dud tyre. I don't know why anyone would have done that. There are a lot of commercial interests in the sport and there could be a hundred reasons why it happened. I remember watching that race back in the motorhome that evening and thinking, 'Welcome to my world, mate.'"
Whatever the reason Rossi, the man to beat that weekend, was suddenly struggling to get within 1.5 seconds of the lap times he had set the previous day during FP3.
His crash allowed Hayden to take a shock title by finishing third behind race winner Troy Bayliss.
While there is no danger of such conspiracy theories this weekend, it is fair to say tyre issues remain a hot topic in MotoGP and, after his travails at Phillip Island three weeks ago, Marc Marquez knows only too well that any number of factors can suddenly turn a sure thing into a no score.
In fact, rarely since 2006 has there been a more dramatic couple of weeks in the history of MotoGP than those that took in the two most recent races of the current season in Australia and Japan, where instead of wrapping up a title that looked so inevitable when he opened up a 39-point gap at Aragon, Team Marquez allowed Lorenzo the opportunity to keep his title defence alive.
We all know now that Phillip Island - where Marquez was disqualified - was a monumental mistake on behalf of Marquez's crew, the like of which could feasibly have cost his trusted chief engineer Santi Hernandez his job. Motegi, meanwhile, was an example of metronomic mastery from Lorenzo and arguably a level of riding we have never previously seen in MotoGP.
From the second lap to the 15th, Lorenzo recorded virtually identical times of one minute 46.1 seconds, before he stepped up the pace into the 1:45 times Marquez had to take too many risks to match.
What made Lorenzo's speed so remarkable was the fact none of the riders had any dry track time to find a set-up over the course of the weekend other than the morning warm-up, when Jorge completed just six laps on Bridgestone's new 'super soft' rear before deciding to gamble on it for the race.
Like pretty much everything he is trying at the moment, the gamble paid off and his 1:45.736 on lap 16 was within two tenths of the circuit record set by Pedrosa in 2012.
Whether his luck holds out in Spain this weekend remains to be seen but, whatever happens at the end of a season that will always be remembered for the record-breaking feats of Marquez, we should also recognise the brilliance of Lorenzo, still the man setting the standard for the others to match and, perhaps, surpass.
Watching the drama unfold is our great privilege this weekend and a final-race decider between the present and future stars of the sport is a fitting way, I think, for the BBC to end a decade of its coverage of this championship.