MotoGP: Jorge Lorenzo and Marc Marquez face off for the 2013 title

By Steve Parrish
BBC motorcycling commentator
Last updated on .From the section MotoGP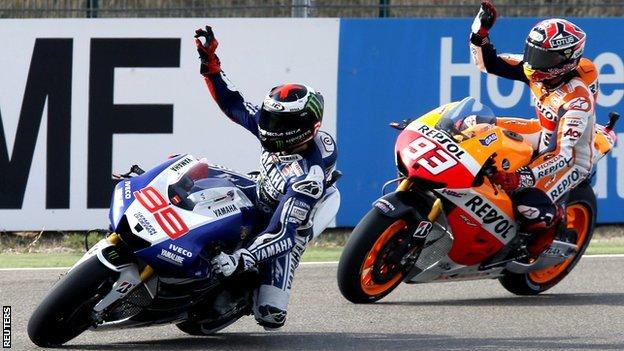 It's the end of an era - and potentially the start of a new one for MotoGP in Valencia this weekend.
Marquez, the 20-year-old sensation, only has to finish in the top four to win the title and end Lorenzo's reign as champion.
Bearing in mind that Marquez has been in the top three at every race he has finished this season, you have to make him odds-on favourite.
But the fact is he, and his motorcycle still have to be in one piece when that chequered flag comes out. If he is in any doubt about how easy it is to throw a title away, he only has to look across the pit lane at Scott Redding or Valentino Rossi.
Redding looked certain to end the long British wait for a championship this season until one accident in Australia last month meant that he missed out on the Moto2 title with an injury.
And in 2006 - the last time the championship went the distance - Rossi fell off in Valencia to hand the glory to Nicky Hayden.
It is so easy for these guys to make the one mistake which can end their chances. You are only ever one injury away from disaster and Marquez will know that going into this weekend.
But I am sure he will hold it together to win the title and climb to the top of the MotoGP mountain, where he could stay for another 10 years.
The last 10 years - or 'The BBC era' - has also been the Valentino Rossi era, you can't deny that. He ruled the sport for a long time and he is still arguably the biggest draw for fans across the world.
I've seen flashes of brilliance from so many other riders throughout that decade and it remains to be seen if, over a long period of time, Marquez is the fastest man I've ever seen.
At the moment I would say that Casey Stoner holds that title. At times Stoner was a phenomenon to watch, particularly up close, but Marquez is a long way from hitting his peak yet and who knows how good he can be?
We will all be in reflective mood this weekend as the BBC crew broadcasts our last race. BT Sport have exclusive rights from next season and it will be an emotional weekend for us all. As my co-commentator Charlie Cox pointed out, the two of us have had a longer relationship than we managed with our wives!
I am confident that BT will make an excellent job of covering the sport and will be able to show more than we ever could, but the fact remains that MotoGP will lose lots of viewers from next season - the 'casual' fans - and that is a real shame.
I've loved the sport for 45 years and there is no doubt that it has grown enormously in popularity over the last 10 years. I am proud of the part our coverage has played in raising that profile and it is such a shame that I feel there could be up to a million fewer people watching each race next year.
As well as so many highlights, the obvious low point of the last 10 years or so was the death of Marco Simoncelli in Malaysia in 2011. I adore the sport but it can be a very cruel one and that was such a hard loss to take.
We tend to think that the riders are indestructible, as the circuits are so safe now, but accidents can still happen and losing Marco, and Japanese Moto2 rider Shoya Tomizawa in 2010, was awful.
Simoncelli had the secret ingredient - he was special. Because so many of the riders come through the academies and are racing from six, seven years of age, they can all come across in a similar way but Simoncelli was different.
He had that star quality like Rossi and he lit up a room when he arrived. We all miss him very much, he was such a great character.
So I will be thinking of him this weekend, but also savouring the finale of another great season.
People have been stopping me this week and talking about the title race, there is a real buzz about this race. It is not often that the title goes down to the final race - it's happened just 15 times in history and only twice in the last 20 years - and it's a fitting way for us to bow out.
We are going to go out with a bang, so please join us for one more show on Sunday afternoon. It's been a pleasure.
Steve's Valencia predictions:
1. Jorge Lorenzo 2. Dani Pedrosa 3. Marc Marquez (Marquez to win the title)