Valentino Rossi to part with Jeremy Burgess after 14 years
Last updated on .From the section MotoGP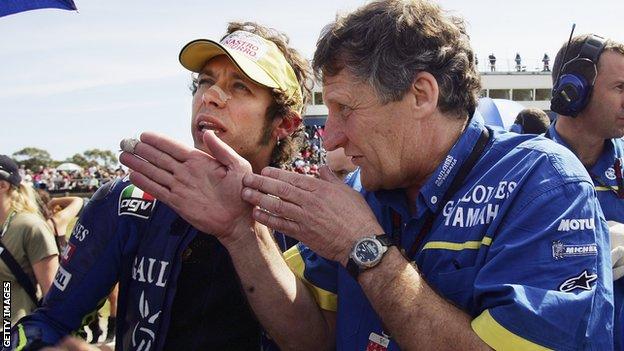 Valentino Rossi will work with a new crew chief next season after announcing he is parting from Jeremy Burgess after 14 years.
But, following a difficult season, Rossi says their partnership is ending after Sunday's race in Valencia.
"He is not just my chief mechanic, he is like part of my family - my father in racing," Rossi said.
"It was a very difficult decision for me because I have a great history with Jeremy.
"But I've decided for next year I need to change something to try to find new motivation and to have a boost to improve my level, my speed."
Australian Burgess, 60, spent more than 20 years with Honda, winning world titles with Mick Doohan and Wayne Gardner as well as Rossi. He followed the Italian to Yamaha in 2004 and the pair masterminded a superb championship win.
He also joined Rossi for his two poor years at Ducati before they came back to Yamaha last winter.
Speaking at a news conference alongside Rossi on Friday, Burgess said: "It blind-sided me and I was not expecting it whatsoever.
"I knew yesterday afternoon when Valentino invited me into his trailer that we weren't going in there for the Christmas bonus.
"Obviously I am disappointed but I can understand that some sort of change was necessary.
"We have been chasing rainbows for four years; we haven't nailed anything decent in those four years.
"History will prove the outcome of this adjustment but the main thing is the adjustment is to try to improve the overall package for Valentino. If this is what does it then it has been a success. I am comfortable with everything and I have got a pretty good set-up around me at home."
Burgess, who is under contract with Yamaha for 2014, said he has not yet decided what his future plans will be.