Marc Marquez: New MotoGP champion staying grounded

By Azi Farni
BBC Sport pit-lane reporter
Last updated on .From the section MotoGP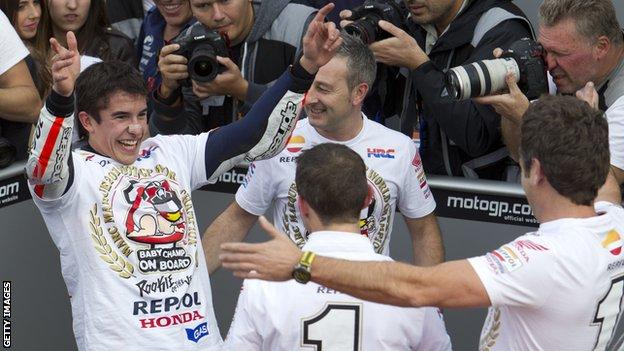 Marc Marquez knows he is not the finished article despite becoming the youngest rider to win the MotoGP title.
Marquez, 20, was third at the last race of the season in Valencia to claim a first title for a rookie since 1978.
Speaking at the first test ahead of the 2014 season, the Spaniard said he will not get carried away despite his feat.
The Honda rider said: "I will learn about my mistakes, try to have less crashes, try to be more constant and try to be more precise on the track."
In a record-breaking season, Marquez set new marks for most wins, podiums and pole positions for a rookie, but knows defending his title will be tough.
He said: "In the last day of pre-season, we will check how how the bike is, how I feel with the bike and then I will check if I'm ready to fight again for the title, or maybe we need to improve a little bit more."
Marquez, who lives in Spain with parents Julian and Roser and brother Alex, is undaunted by the rise in attention from fans and media and says his family keep him grounded.
He said: "In the end I'm the same Marc. Maybe it will be more difficult to be a normal guy but I enjoy it because it was my dream. If you have these problems, it means you did a good job.
"I still have to clean my room, I have to do my bed. I prepare the table and my brother cleans the table. It's always been like that."
And he acknowledged his title success was a team effort.
"A rider can be good but if you don't have the team, the family, the atmosphere with you it's so difficult and nearly impossible to get a title," he said.
Marquez is testing two versions of the 2014 spec Honda in Valencia until Wednesday with the new season due to start in Qatar on 23 March.