Thursday's Isle of Man TT practice session cut short
Last updated on .From the section Motorsport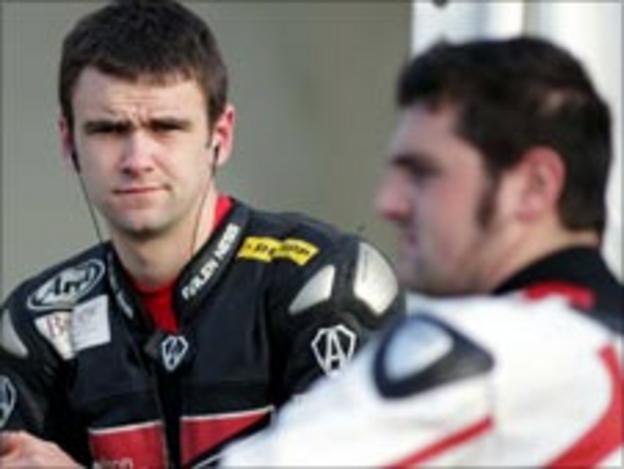 Thursday night's practice session at the Isle of Man TT had to be cut short because of an oil spill and a number of incidents on the course.
A number of sidecar riders did get out on the course but none of the motorbike contenders registered times.
In addition to the oil spill, there was a road traffic accident close to the course while a rider also had to be taken to hospital following a crash.
Practice will resume on Friday evening in the Isle of Man.
On Wednesday night, Michael and William Dunlop had continued their impressive form in practice.
Michael set the second quickest Superstock time of the week at 128.26mph and the fifth fastest Superbike speed on 128.26, with Bruce Anstey fastest Superbike on 129.69.
Michael had set the fastest Supersport time at 125.46 on Tuesday night.
William is fourth fastest Supersport on 123.96, while Ryan Farquhar is seventh in Superstocks at 124.39.
Anstey and Guy Martin (129.33) both bettered John McGuinness' previous best lap speed of 129.04 in Wednesday night's Superbike session.
Gary Johnson is now the fastest Superstock on 128.45, with Anstey third on 127.69.
Cameron Donald became the second fastest Supersport rider of the week with a speed of 125.11 on his Wilson Craig Honda on Wednesday night.
Anstey is third quickest Supersport at 124.23.
Scot Keith Amor crashed at Quarterbridge sustaining a shoulder injury.
A specialist has informed the Falkirk rider that he should sit out Thursday night's session but may ride again in Friday evening's practice.