New Zealander Bruce Anstey clinches TT Supersport win
Last updated on .From the section Motorsport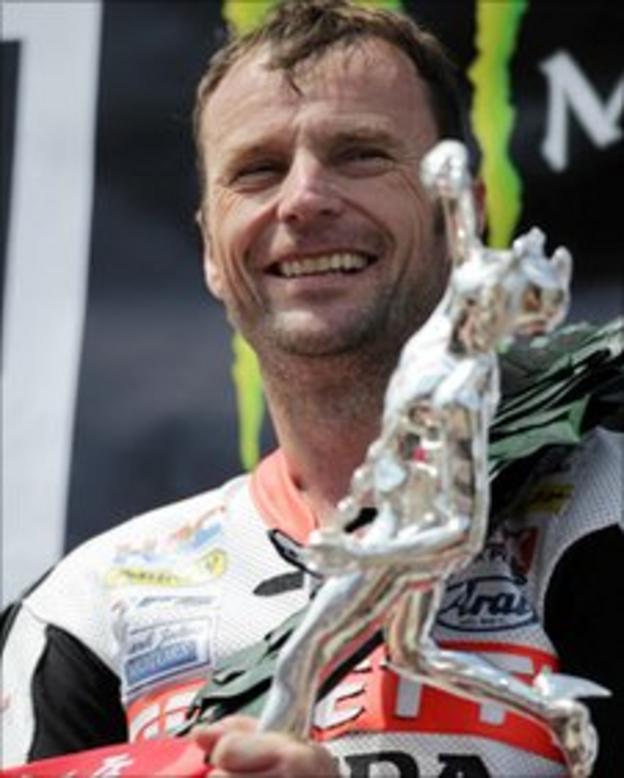 New Zealand rider Bruce Anstey took victory in Monday's Supersport A race at the Isle of Man TT.
The race had to be restarted after an accident which claimed the life of Irish rider Derek Brien.
Anstey finished ahead of Keith Amor and Guy Martin with Gary Johnston and John McGuinness completing the top five.
Michael Dunlop led both races before retiring twice while Cameron Donald had a 17-second lead before the red flag in the original race.
Donald also held a comfortable lead in the re-run race before retiring on the final lap which let in Anstey to clinch his eighth TT victory.
The Padgetts Honda rider won by eight seconds from Scot Amor with Martin a further eight seconds behind.
With Johnson fourth and McGuinness fifth, Manxman Dan Kneen completed the top six.
Michael Dunlop retired while leading on lap two of the re-run race.
"I didn't feel like I was going all that quick but I'm delighted to have won another TT - there's life in the old dog yet," said Anstey, who set the fastest lap of the race at 126.59mph on his final circuit.
The opening Superstock race has been put back to Monday evening with an 1830 BST start.
Michael Dunlop was hoping to add to his solitary Isle of Man TT in Monday's two races.
The younger of the Dunlop brothers started as favourite for the Supersport race after setting the fastest time in practice at 125.46mph on his Yamaha.
Dunlop switches to a Kawasaki for the Superstock event in which he set the second quickest speed in qualifying.
Ryan Farquhar will miss the remainder of the TT after his practice crash on Friday.
The 33-year-old suffered cracked ribs, severe bruising to his back and soft tissue damage in his crash.
"I'm slowly starting to feel better but I'm still very sore," said Farquhar on Sunday.
"It was a pretty bad crash and I'm fortunate that my injuries are not worse.
"The bike just went into neutral and I went off line and couldn't save it.
"The plan was to get out of hospital on Saturday and get the Superstock bike prepared for Monday's race but I've had to admit that it's simply not possible.
"I haven't broken anything but I'm extremely stiff and sore with my ribs and back, especially, causing me a lot of discomfort.
"It's hard to ride at the TT when you're 100% fit so there's no way I can ride for the rest of the week and I've got to face up to that fact."