John George frustrated by racing woe in BTCC
Last updated on .From the section Motorsport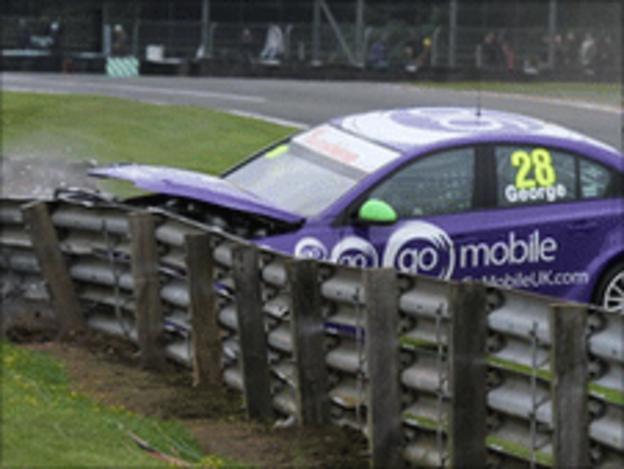 Guernsey racing driver John George has aired his frustration after failing to finish a single race in round four of the British Touring Car Championship.
An electrical fault halted the Sarnian in race one, before he crashed out of race two at Oulton Park.
Having been beset by a tyre problem in race three, George said: "We had issues with the car and our lack of power.
"You have to push and if you end up being desperate that will always lead to accidents."
George, who is racing for GoMobileUK, is now 23rd in the overall standings after round four, with his team mate Paul O'Neill in 10th.
O'Neill also struggled at Oulton Park, crashing out in race three, which George believes is a direct result of a not having a turbo fitted in their Chevrolet Cruzes.
He said: "I really don't know what to say about the turbo situation. We were promised performance parity before the season started and obviously we don't have that.
"If you look at the speed traps there isn't a non turbo car in the top 10 places in any session, they just drive around you on the straights.
"I was a bit bruised but the car doesn't look good at all, I ripped the front off mine and Paul took the back off his."