Allan McNish salutes Audi after horror smash at Le Mans
Last updated on .From the section Motorsport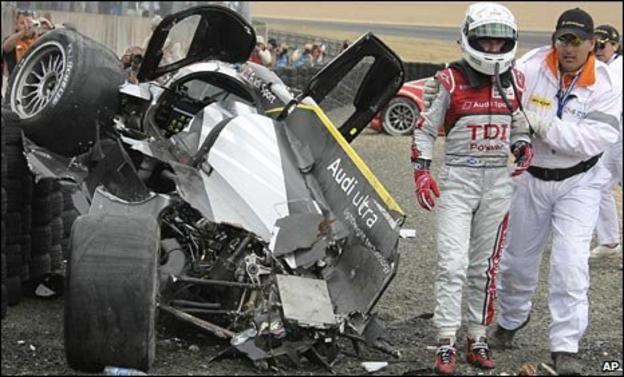 Allan McNish has thanked his Audi team for constructing a car from which he could emerge virtually unscathed after his 120mph horror crash at Le Mans.
The two-time Le Mans 24-hour winner clipped a backmarker after taking the lead just 50 minutes into the race.
"I have to give a big thank you to the designers of Audi," said the Scot.
"They've produced a car that can have an impact that is enormous and the driver pops the door and gets out perfectly well."
The 41-year-old has nevertheless been advised not to travel as his body recovers from the trauma.
"Obviously, it was a very big accident. I think everybody realises that," said McNish, who was also thankful that no spectators were hurt either.
"I've been banged around a little bit, but the biggest thing is a little bit of pain in the bottom of my back and a big graze around my shin.
"Considering the impact, the speed and everything else, I think we all got away quite fortunate.
"I was very, very relieved that there were no other injuries, because I saw the people at the side of the track - and there was a lot of luck involved, I have to say.
"It made my heart stop when I saw that."
McNish believes he is fortunate that the crash happened on the anniversary of his 30th year in the sport rather than when he first entered racing.
"I have to say probably wouldn't have been able to talk to you right now and that is one of the developments that motor sport has given," he admitted.
"We now have significantly better and stronger cars."
McNish insisted that the accident had not forced him to reassess his future in the sport, particularly given he has a young family at home.
"The family are obviously concerned, but you obviously know there is a risk," he said.
"I think the family are more disappointed that the race is over and we've got to wait another year to have a crack at it again.
"I think the car we had given to us by the mechanics and engineers was really, really good.
"I think it was the car to have, to be honest."
Audi still won the race, despite another major crash suffered later in the race by Mike Rockenfeller, through their last remaining entry, driven by Andre Lotterer, Marcel Fassler and Benoit Treluyer.
McNish welcomed the victory and was quick to reject the suggestion that a little more patience on his part might have prevented his crash.
The Scot had surged from fifth on the grid to first place by lap 15 of the famous endurance race.
However, as McNish momentarily passed team-mate Timo Bernhard, he came to grief as he attempted to do likewise to the GTE Pro Ferrari of Anthony Beltoise.
"From where I was sitting going down the inside of that corner, there was not a risk to get into that corner," said the Scot, who was sharing the drive with Tom Kristensen and Rinaldo Capello.
"I've made that overtake many, many times before and I saw many other drivers doing it in the race afterwards."