Stuart Easton improving after NW200 practice crash
Last updated on .From the section Motorsport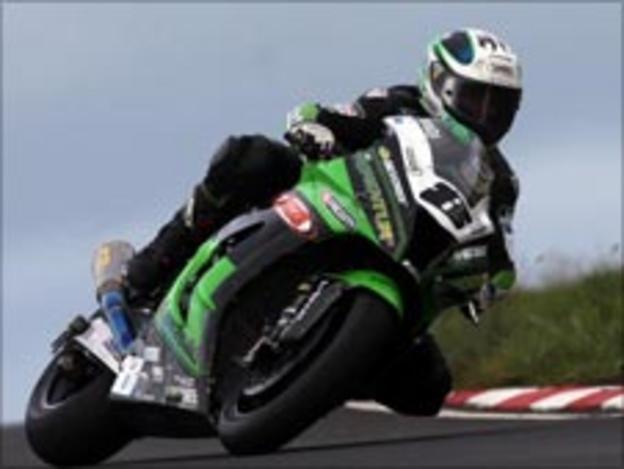 Scottish rider Stuart Easton is making good progress as he continues to recover from serious injuries sustained in practice for the North West 200.
The MSS Colchester Kawasaki racer is set to be airlifted to a hospital in Edinburgh early next week.
"I'm starting to feel more comfortable and my appetite is starting to come back," said Easton on Twitter.
"The first week was pure hell, with lots of pain, but I've been watching the TT and GP and want to race again."
Easton suffered a broken pelvis, a broken femur and hand injuries.
"I'd actually be happy enough staying in Belfast as the surgeon who did the work is close by but being back home and seeing my family will be great.
"At first I never wanted to see a bike again but now I've been watching the TT and GP, I know I love bikes and that's what I want to do still.
"I've had another op on my leg to drain fluid and the external fixator should come off after six weeks.
"You want to feel improvements every day and that's what the physio is all about - I'm receiving physiotherapy twice daily which helps immensely."
"You need a goal and I want to be rolling a wheelchair down the pits at Oulton Park before I'm up and about later in the year," added the Hawick rider.