March put Oxfordshire on motorsport map - Max Mosley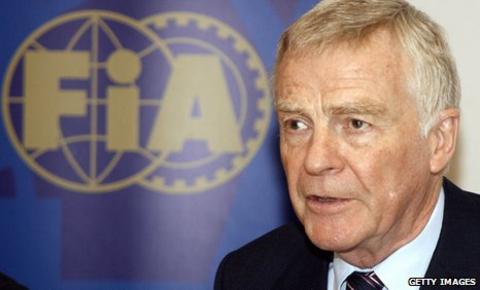 With F1 competitors Williams and Renault and rally specialists Prodrive all based in Oxfordshire the county is firmly at the heart of the UK motorsport industry.
One man not surprised by this is ex-FIA President Max Mosley, who helped pave the way for motorsport in Oxfordshire when he set up Bicester-based company March Engineering in 1969.
"March was the start of motorsport in that area or valley, and more and more people then were either doing things nearby or former employees would start up businesses nearby and so on and so on until it gradually grew," he told BBC Radio Oxford.
Mosley, who studied Physics at Oxford University, co-founded the company with Alan Rees, Graham Coaker and Robin Herd, but why choose Oxfordshire?
"Well we started in Oxford because one of the people studying Physics with me in the first year was Robin Herd, and he went on to do engineering and got a brilliant first, and he was designing cars at Mclaren," said the 71-year-old.
"Robin was doing some moonlighting for Frank Williams, and we got together and thought there was room for another company in F1, and we decided, like you do sometimes in your 20's, to start March with really no money and see what we could build.
"What we needed was somewhere that was within reasonable reach of Robin's home in Blisworth, Northampton and Alan Reese and Graham Coaker in Maidenhead, so the only person who had to move if we went to Bicester was me."
March began life in Formula 3 but its attention soon turned to F1 and in 1970 the company made and supplied the 701 chassis for Tyrrell driver Jackie Stewart.
Stewart, along with Chris Arnon, debuted for March at the South African GP.
The duo started the race on the front row of the grid and even though Arnon crashed out due an overheated engine, Stewart earned March their first F1 podium with a third-place finish.
However Mosley admits his team could have perhaps been more gracious in their success.
"The establishment weren't terribly welcoming and that was partly our own fault," he said.
"When we started we got Arnon, Joseph Siffert and Ronnie Peterson on board but we also sold cars to Tyrrell for Jackie Stewart, and when we arrived at the first race in South Africa, the two march cars, driven by Arnon and Stewart, occupied the front row of the grid.
"That didn't go down too well with the establishment because we weren't very humble about it, so it was in one way a good start but it might have been better to start off more modestly."
It was not long after South Africa that March got their first F1 victory when Stewart won the next race - the Spanish GP, however it was the 1971 F1 season where March really earned their stripes after Ronnie Peterson finished runner-up in the World Championships despite having not won a race all year.
"It was pretty fundamental because it was really the start and at the same time we showed a lot of people that it was possible to do something like that without being massively rich or having a big company behind you," said Mosley.
Mosley left March in 1977 and went on to become of the most powerful men in motorsport while the Bicester-based company had varied success across F1, F2 and F3.
Mosley resigned from his position as FIA president in 2009 and March has since re-branded as March Indy International in the Indy racing league.
BBC Oxford's Blood, Sweat and Tyres programme will be broadcast live on 95.2FM at 1200 BST on Thursday, 30 June and online via bbc.co.uk/oxford