Wolverhampton pip Birmingham Brummies in derby thriller
Last updated on .From the section Motorsport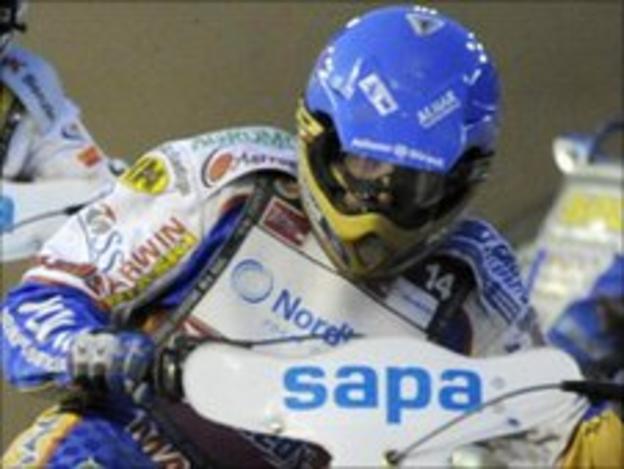 The first ever Elite League derby between Wolverhampton and Birmingham went right to the wire with the home side squeezing home 46-43 at Monmore.
Swedish Grand Prix star Freddie Lindgren was Wolves hero, securing victory in the final heat.
The Brummies were ahead for almost half of the meeting thanks to improved performances from Krzysztof Kasprzak and skipper Danny King.
The two sides are scheduled to meet again at Perry Barr on Thursday.
"It was a very good performance from them, they've got a lot of strength-in-depth," Wolves manager Peter Adams told BBC WM.
"We weren't really on our A-game today, they were well worth a point."
Birmingham boss Graham Drury had warned Kasprzak before the meeting that another poor performance would cost him his place in the team, and the message seemed to draw a positive reaction.
The former Coventry heat leader produced a breathtaking opening race display to pip Lindgren, and a similarly outstanding ride in heat 11 to defeat home skipper Peter Karlsson.
"I think he got a reprieve again," said Drury. "He was class tonight certainly. If he hadn't come up with the goods I'd have been telling him where the road to Poland is.
"Like any professional sport, you ask for 100-per-cent all the time and I think all of our riders gave that."
Wolves got off on the wrong foot, particularly in heat three when Ludvig Lindgren was unfortunate to be excluded after bumping into the back of Ben Barker's bike as the Brummies rider locked up on the second bend.
Worse was to come as Ludvig's team-mate, Tai Woffinden, fell in the re-run handing Barker and Danny King a 5-0 victory and the Brummies an early 11-6 advantage.
"The start of any meeting is vitally important," stressed Wolves boss Adams. "It set the tone for the remainder of the heats.
"Birmingham obviously had their tails up - things didn't go our way particularly at the start and we couldn't shake them off."
Lindgren led all scorers for Wolves with 14 points, Karlsson adding 10 and Woffinden nine.
Kasprzak topped the charts for the visitors with 10, Barker contributing nine and King eight.
The Brummies will be without Kasprzak for the return meeting on Thursday with Coventry's Edward Kennett expected to deputise.