GP3 driver Alexander Sims saves 'best' for Silverstone
Last updated on .From the section Motorsport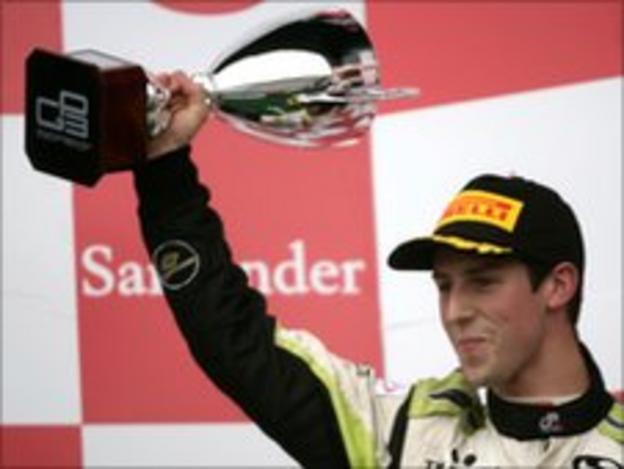 Cambridgeshire's Alexander Sims has said his GP3 performance at Silverstone produced one of the stand-out drives of his career.
The 24-year-old climbed from seventh to third in race two on Sunday.
But Saturday's inspired race one outing in the rain saw the Status driver overtake 10 rivals to finish second.
"It was a pretty special race, one of my best I'd say in terms of excitement and speed over the opposition," he told BBC Radio Cambridgeshire.
"I don't know what position I was in at the start, but it felt low down, and I came through.
"When I was about sixth or seventh I thought that was a good recovery, but I kept catching people."
After qualifying fifth Sims, and numerous other drivers, had to start from the pits when an impromptu downpour during the formation lap forced a tyre change.
But Wansford's Sims, who has F1 aspirations, slalomed through the field to cross the line as runner-up and set up Sunday's third place finish, a pair of results that put him top of the GP3 standings.
"It doesn't matter where you are until the end of the season," he added.
"We've got to focus on getting race wins and then the last two or three races start thinking about the Championship, but we've got eight races to go."
The GP3 Series, which supports F1's European races, moves on to the Nurburgring on the weekend of 22 July.