Coventry Bees skipper Edward Kennett banned for a week
Last updated on .From the section Motorsport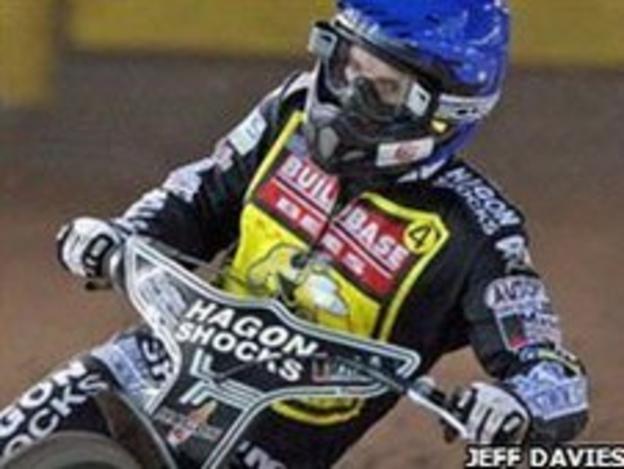 Coventry Bees skipper Edward Kennett will serve a one-week suspension for using an illegal silencer on his bike against Lakeside Hammers.
The Bees were deducted 18 points for the offence which saw a 48-42 victory turned into a 42-30 defeat.
Kennett apologised but insisted he did not know the silencer had been altered.
He said: "It's been brought to my attention someone within my team had taken upon themselves to tamper with the silencer without my knowledge."
The 24-year-old added: "I have taken swift action to resolve this matter and the person in question is no longer in my employ.
"This has been a most unfortunate and upsetting incident."
Kennett had scored a maximum 15 points during Saturday's meeting, while Nick Morris scored a further three points using his bike.
In a statement on the club website Coventry Bees said: "The club will be taking its own internal action against Edward Kennett if necessary and we can also confirm that the captaincy will pass to Ryan Fisher with immediate effect.
"Coventry Speedway has a long and proud history and under no circumstances does the club condone cheating of any kind, whether that relates to race fixing or machine tampering.
"Coventry wish to express sincere apologies to British Speedway, its supporters and in particular the supporters of Coventry and Lakeside who attended the meeting on Saturday for this unacceptable misdemeanour."