Coventry Bees skipper Edward Kennett resigns from club
Last updated on .From the section Motorsport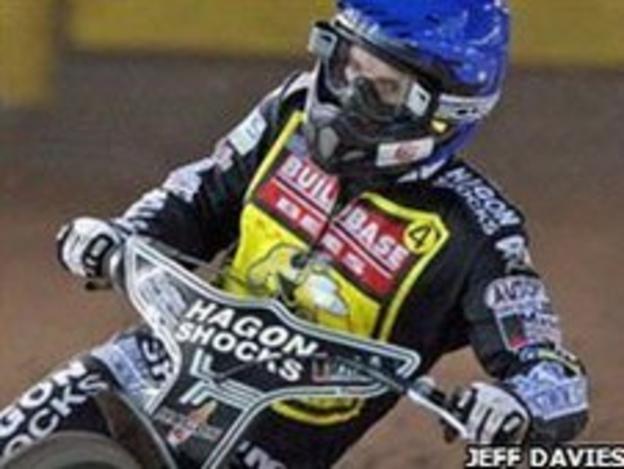 Coventry Bees skipper Edward Kennett has resigned from the club after riding a bike with an illegal silencer against Lakeside Hammers.
Kennett, 24, scored a 15-point maximum in Saturday's meeting, but that was rubbed out when the silencer was found to have been tampered with.
In a statement on the club website Kennett said he had decided "to resign from the club with immediate effect".
He had already been suspended for seven days by the Speedway Control Bureau.
Kennett previously claimed someone in his team "had taken it upon themselves to tamper with the silencer without my knowledge".
The statement read: "After the events of the last few days and with my disciplinary hearing coming up next Tuesday I feel that the least I can do to help repair some of the damage this incident has done to Coventry, my team-mates and above all Coventry supporters, is to resign from the club with immediate effect.
"Coventry is in my blood and I would not wish to do any more to harm the club or the supporters that I love.
"I know that I will be punished on Tuesday and I am prepared to accept whatever that decision is for the good of British Speedway."
Coventry had originally beaten Lakeside but the deduction of Kennett's points saw the victory become a defeat.
The club also released a statement on their website: "Coventry Speedway would like to thank Edward Kennett for putting the club first, and for his publicly stated intention to help repair the damage done over the last few days.
"Edward stood by the club during the winter dispute, which we will always be grateful for, and although the events of the weekend were a huge surprise and disappointment, we feel he has now acted in the best interests not only of Coventry but also of British Speedway in general."
On Wednesday, without their suspended captain, they boosted their push for the play-offs with a 48-44 away win at King's Lynn.
Emil Sayfutdinov top-scored for the Bees with 13 points, while Przemek Pawlicki also impressed, bagging 11 points.