Guy Martin quickest in Ulster Grand Prix practice
Last updated on .From the section Motorsport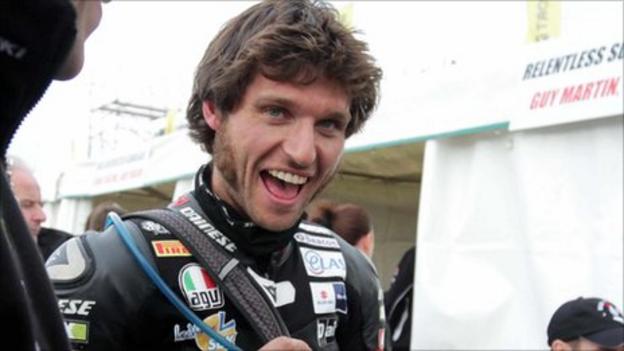 Guy Martin was fastest in the Superbike class in Thursday's rain-delayed practice for the Ulster GP at Dundrod.
The Relentless TAS Suzuki rider from England went round at 120.17mph, ahead of Cameron Donald and Keith Amor.
Ballymoney's Michael Dunlop (120.86) edged out Martin in the Superstocks while Amor topped the Supersport times from Michael Dunlop and Donald.
Ian Lougher was quickest in the 250s and Ryan Farquhar was second to Wayne Hamilton in the Supertwins.
Farquahar has dominated the Supertwins class but Hamilton's 110.23 easily eclipsed the 108.30 from the Dungannon man.
Lincolnshire rider Martin produces his best on the Dundrod circuit and he will be seeking his seventh Ulster GP win on Saturday.
William Dunlop from Ballymoney was the top local rider in the Superbikes in fifth, with Farquhar sixth and Michael Dunlop seventh.
Superbike
1. Guy Martin (Suzuki) 120.17mph
2. Cameron Donald (Honda) 119.69
3. Keith Amor (Honda) 117.84
Supersport
1. Keith Amor (Honda) 117.29
2. Michael Dunlop (Yamaha) 117.15
3. Cameron Donald (Honda) 116.59
Superstock
1. Michael Dunlop 120.86
2. Guy Martin 119.99
3. William Dunlop 119.33
250s
1. Ian Lougher 110.23
2. Seamus Elliott 106.09
3. Olie Linsdell 105.93
Supertwins
1. Wayne Hamilton 110.23
2. Ryan Farquhar 108.30
3. John Burrows 105.79
Practice and race schedule:
Thursday 11 August - Roads close for practicing and Dundrod 150 races from 1030 BST
Saturday 13 August - Roads close for racing from 0930 BST
Race 1 - Superstock race
Race 2 - Supersport Race 1
Race 3A - 250cc Race
Race 3B - Supertwins Race
Race 4 - UGP Superbike Race
Race 5 - Supersport Race 2
Race 6 - Superbike Race 2