Plymouth Devils 48-36 Leicester
Last updated on .From the section Motorsport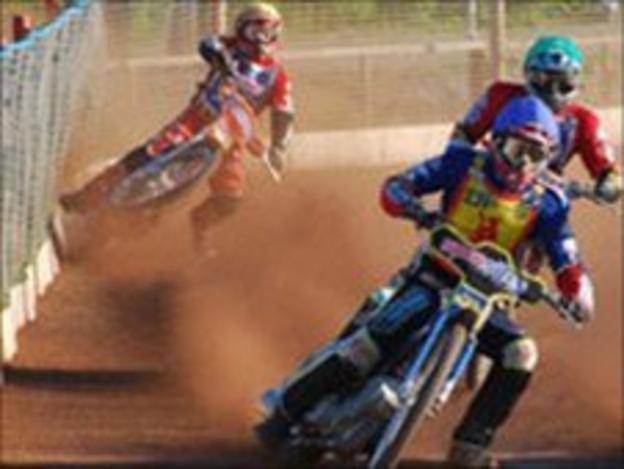 Plymouth Devils overcame fellow strugglers Leicester in a rain-affected match at St Boniface Arena to secure their fourth win of the season.
The Devils were leading 48-36 after heat 14 when the match was abandoned because of persistent heavy rain.
Plymouth boss Mike Bowden said: "It was a good win and it was important for us to take the three match points from the team above us in the table.
"We were fortunate to complete the meeting in view of the wet weather."
He added: "Tribute is due to the riders of both teams for racing in the conditions and also to the public for staying to watch what proved to be a entertaining meeting."
Speedway rules state that 12 of the 15 heats have to be completed for the result of a match to stand.
Plymouth: Ben Barker 12 (4 rides), rider replacement (for Hynek Stichauer), Lee Smart 9 (4), Jesper Kristiansen 4+3 (4), Ricky Wells 8+2 (5). Reserves: Gino Franchetti 6 (7), Kyle Hughes 9+1 (4).
Leicester: Kauko Nieminen 8+1 (4), Jan Graversen 7+2 (4), Ilya Bondarenko 9 (4), Henning Bager 1 (4), Magnus Karlsson 5 (4). Reserves: John Oliver 1+1 (4), Charles Wright 5 (4).