Stuart Easton optimistic he will race again in 2012
Last updated on .From the section Motorsport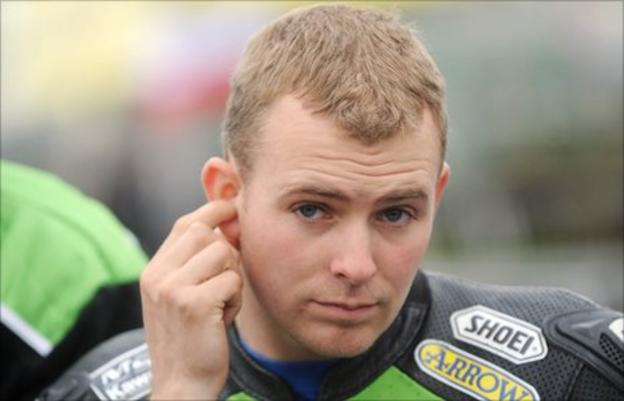 Scottish rider Stuart Easton is optimistic that he make a return to racing next season as he recovers from serious injuries sustained at this year's North West 200.
After a long spell in hospital, Easton is now recovering at home and can move about without the aid of crutches.
Easton suffered a broken pelvis, a broken femur and hand injuries in the 19 May practice crash.
"I'm looking forward to getting back into top gear," said Easton.
"It's important just to be patient and keep positive and of course follow medical advice.
"In terms of 2012, the Kawasaki team have kept in touch and boss Nick Morgan has indicated that he would like to kickstart our partnership again.
"I'm due back for an x-ray on 30 August and if the bone has healed well, as doctors have predicted it will, I'll undergo a small operation to shave some bone off the thigh to free a muscle which is sticking to it and preventing my right knee from bending fully.
"Once my knee bend is fully back to normal the plan is to have intensive physio and build up my strength, energy and fitness levels."
Easton added that his goal is to get back to at least 90% of where he was prior to the accident with the aim of returning to racing next season.
North West 200 technical director Mervyn Whyte has kept in regular touch with Easton and his family since the accident.
"I am thrilled at how well Stuart is recovering from his injuries," added the North West 200 boss.
"I really admire his tenacity and determination and we look forward to welcoming him back to Northern Ireland in the future."