F1 hopeful Alexander Sims sees GP2 as next step
Last updated on .From the section Motorsport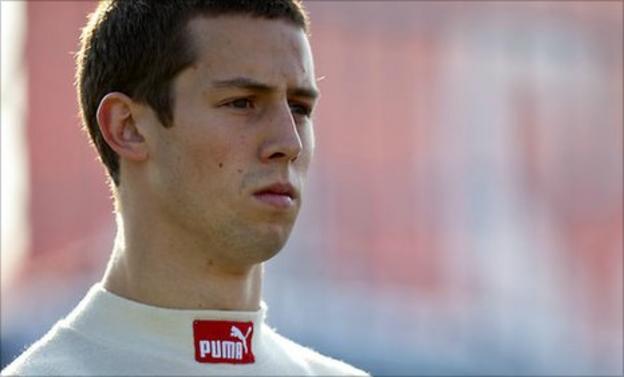 Alexander Sims has targeted a seat in GP2 next year as he continues his pursuit of a future in Formula One.
The 23-year-old from Wansford finished sixth in GP3 this season.
"A drive in GP2 would be the ultimate in terms of next year and my career progression," the Status driver told BBC Radio Cambridgeshire.
"But the prices now for GP2 are quite outstanding, you're probably getting close to £2m for one season's racing, which is pretty incredible."
Sims' 2011 campaign with the Status GP team combined impressive highs with disappointing lows.
His performance at the Silverstone weekend, which saw him overtake 10 rivals to finish second in race two, was a genuine highlight.
But he could only manage a sixth-placed finish in the championship standings, although the former Formula Renault driver is confident he will be a wanted man in GP2.
"I feel I've done enough this year to prove my worth in GP2," he explained.
"But you're dealing with peoples' opinions, so I've got to speak to people and see where they lie.
"I know that some GP2 teams are interested, but trying to stump up the cash isn't easy.
"If it does come from anywhere, it's likely to come from my management firm [Gravity Sport Management] that are behind me.
"They invest money into my career, and hopefully I make that back when I start making decent money by being a professional racing driver."