David Knight withdraws from final World Enduro round in France
Last updated on .From the section Motorsport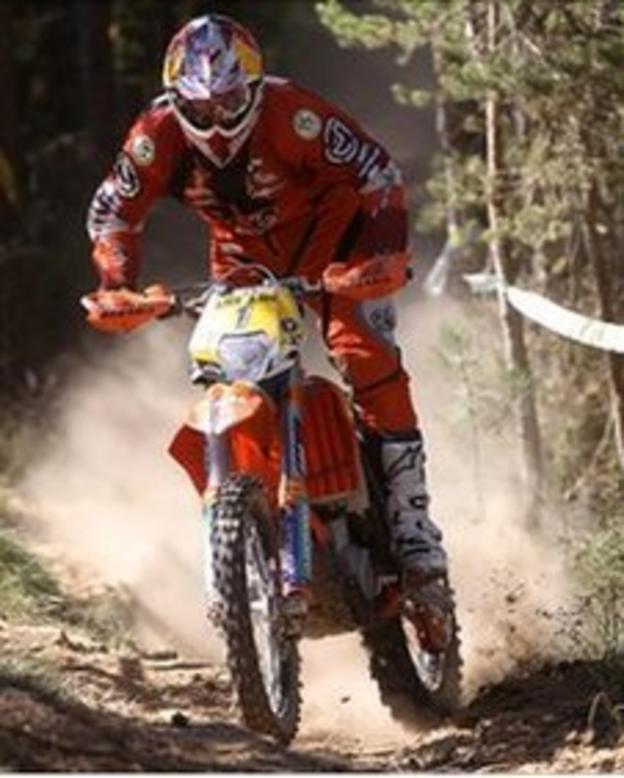 David Knight pulled out of the final round of the World Enduro Championship in Mendes, France on Sunday.
The four-times world champion from the Isle of Man said the dusty conditions made it too dangerous to continue.
"The dust was so bad in the special tests, especially in the Enduro test, that it was just too dangerous," said the 33-year-old.
The KTM rider has only recently returned to racing after undergoing double hip-surgery.
Knight, who has won all four rounds of the British Enduro Championship since his return last month added: "I always knew that competing in the last round of the World Championship would be tough but being at the back of the Enduro 3 class made it impossible to compete."
Finland's Mika Ahola won his fifth consecutive world title.
Manx riders Danny McCanney and Alex Rockwell both delivered solid performances in the Junior event.
McCanney finished 11th on the opening day and and fifth on the second in his first ever World Championship round.
"I am made up with my performance, it was so dusty that you could hardly see where you were going."
Meanwhile, Rockwell claimed 10th and 11th-place finishes.