Chaz Davies celebrates first World Supersport title win
Last updated on .From the section Motorsport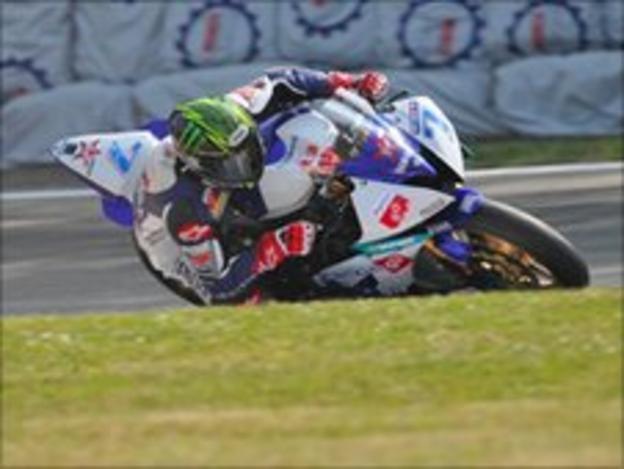 Herefordshire's Chaz Davies says his World Supersport Championship win was down to 15 years of hard work.
Davies overcame engine failure at Imola to finish sixth at Magny Cours in France, giving him an unassailable 37-point lead with one round remaining.
"I have never once thought about knocking the job on the head even though we have had tough times," he told BBC Hereford & Worcester.
"That is down to having a strong family that has always believed in me."
The 24-year-old has won five of the 11 rounds of the championship with his Yamaha ParkinGO team-mate Luca Scassa recording three victories as the team has dominated throughout.
"I took confidence from being with the same team for the second year in a row," added Davies.
"Last year I had a good season when I finished fourth in my first season in World Supersport so that set me up well for this season.
"We changed bikes and I knew the Yamahas were going to be a really competitive package but the big part of it was keeping that continuity there with the guys I was familiar with from last year."
It looked as if Davies would claim the title on the team's home track of Imola, Italy a week earlier but they suffered heartbreak when the engine blew up with only four laps remaining.
"That was so hard to take as everybody was geared up and everything seemed pretty perfect," he said. "I thought I was being over-sensitive because I could hear some sort of ticking noise from the engine from about lap five onwards.
"I was feeling really good and was still pulling away from the second-placed bike with around an 11-second lead and then the engine completely self-destructed.
"Luckily we only had to wait a week - that was the good thing as I was chewing on it on Monday and Tuesday and was pretty angry.
"It was nobody's fault but it is just hard to take but one week later and here we are."