Obituary: Dan Wheldon
Last updated on .From the section Motorsport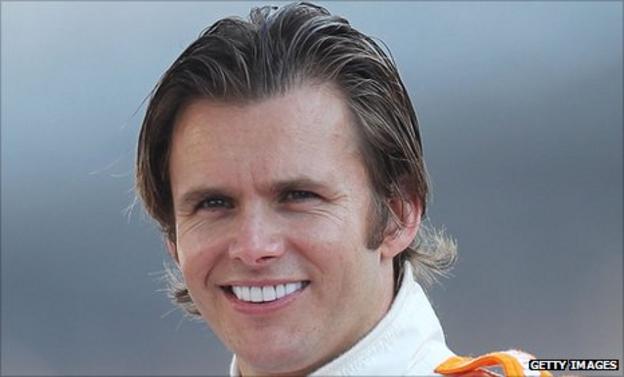 Britain's Dan Wheldon, who has died in an IndyCar accident in Las Vegas at the age of 33, was one of the most successful drivers in world motorsport.
Born in Buckinghamshire, he made his name in the United States, becoming the first Englishman to win the Indianapolis 500 since Graham Hill in 1966 when, in 2005, he triumphed in the sport's biggest race. He then repeated the feat in 2011.
Another of Wheldon's crowning achievements was becoming Indy Racing League (IRL) IndyCar Series champion in 2005.
He may not have boasted the same public profile in his homeland as countrymen Jenson Button and Lewis Hamilton but Wheldon was widely respected within the motorsport community as one of the most successful and talented drivers Britain has produced.
"He was a very recognised name in the world of motorsport and achieved great things on the circuit in the States," said former IndyCar and Formula 1 driver Mark Blundell.
"He was a nice young man, very approachable, very marketable. A guy everyone down the pit lane loved.
"He had plenty of racing left in his career. It is tragic to see someone lose their life in this way."
Wheldon was born in the Olney area of Buckinghamshire on 22 June, 1978.
He took up karting at the age of four, enjoying success as he progressed through the junior ranks during his school years.
Former F1 driver Anthony Davidson, who raced against Wheldon, called him the 'Michael Schumacher' of the karting world.
Wheldon also enjoyed a rivalry with Button during his younger years but this was not to be replicated in Formula 1.
In 1999, at the age of 21, Wheldon moved to the US, claiming he could not get the level of investment needed to progress his career in the United Kingdom.
He impressed in the US F2000 series before being called up to the IRL's Panther Racing squad as a test driver in 2002 and then switching to Andretti Green Racing as one of their main drivers.
In March 2003, Wheldon escaped unharmed from a 220mph crash in the Indianapolis 500.
With just 14 laps remaining, he spun into the concrete retaining wall and flew through the air before landing upside down on the tarmac.
"I think the accident looks more spectacular than it really is," he said afterwards. "All in all, I think it was a good race and it is just unfortunate that happened at the end."
Wheldon sealed Rookie of the Year honours in 2003 and then recorded three wins the following year as he finished second in the series championship.
Things got even better in 2005, when he claimed a series-record six victories, becoming the first driver since the start of the IRL in 1996 to win the Indy 500 and the series championship in the same year.
After winning the Indianapolis 500, a delighted Wheldon said: "This has been a dream come true for me. I've loved the Indy 500 ever since I was a little kid in England.
"The best drivers and the best teams in the world are here. I don't think winning the event and being an Indy 500 champion has quite sunk in yet."
At this time, there was talk about a move to F1.
"Formula 1 is something I would love to do but I would not want to go there just to make up the numbers," he said.
"I would want to do the job properly, with a team that will allow me to go for the title."
Wheldon eventually announced that he was staying in IndyCar, but with Ganassi Racing rather than Andretti Green.
The only F1 offers he received were for test drives.
"The fact I would have been a test driver for a year wasn't a particular problem," he said.
"But I could have been testing for more than a year. I enjoy racing in America too much to give it up for that.
"However, I think I've learned in this business you never say never."
Wheldon went on to post nine top-five finishes to tie Sam Hornish Jr on championship points in 2006 but lost the title because Hornish had more wins.
The Englishman also shone in the 2006 Indy 500 only for a late flat tyre to prove costly. At the end of that year, he declined an offer to join the BMW-Sauber F1 team.
The 2006 IndyCar season witnessed the death of Paul Dana after his car collided with another car during a practice session at Homestead-Miami Speedway.
Wheldon paid tribute to the American following the incident, saying: "What's important today is that our thoughts and prayers are with the Dana family and the people at the Rahal Letterman team.
"Racing is what I love. It's my job to race and I love my job. It can be pretty vicious at times, but there are a lot of highs, too."
In both 2007 and 2008, Wheldon finished fourth in the title race before returning to Panther Racing. He switched to Bryan Herta Autosport earlier this year and enjoyed great success by winning the 2011 Indianapolis 500.
It was a dramatic victory, Wheldon taking the lead with metres to go to seal his first win in the series for three seasons.
He dedicated the victory to his mother, who had recently been diagnosed with Alzheimer's disease.
Wheldon, who lived in Florida, leaves behind wife Susie and young sons Sebastian and Oliver.