Dario Franchitti wins on tragic day for IndyCar
Last updated on .From the section Motorsport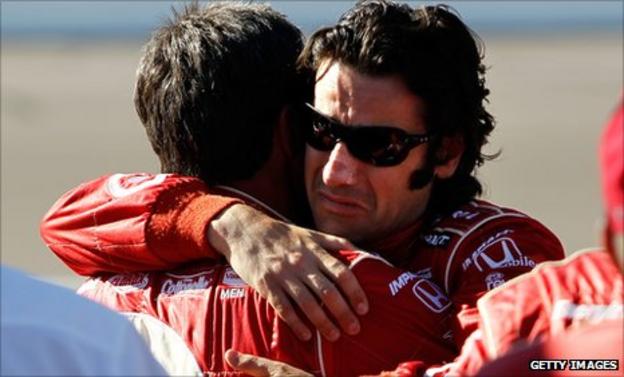 Dario Franchitti's third consecutive IndyCar title victory was completely overshadowed by the death of Dan Wheldon in the season's finale.
The Englishman was killed in a 15-vehicle crash in Las Vegas.
The event was cancelled after the terrible accident, leaving Scotland's Franchitti at the top of the standings for a fourth time in five years.
"We put so much pressure on ourselves to win races and championships and today it doesn't matter," he said.
The 38-year-old from Bathgate was in tears in his car before setting off on a the five-lap salute to Wheldon.
"Right now I'm numb and speechless," he added. "One minute you're joking around in driver intros and the next he's gone.
"He was six-years-old when I first met him. He was this little kid and the next thing you know he was my team-mate."
Franchitti claimed there had been warning signs of potential danger due to the number of cars in close confinement at such high speeds.
"I could see within five laps people were starting to do crazy stuff," he told IndyCar.com.
"I love hard racing but that to me is not really what it's about. One small mistake from somebody..."