Speedway: Leigh Adams' road to recovery
Last updated on .From the section Motorsport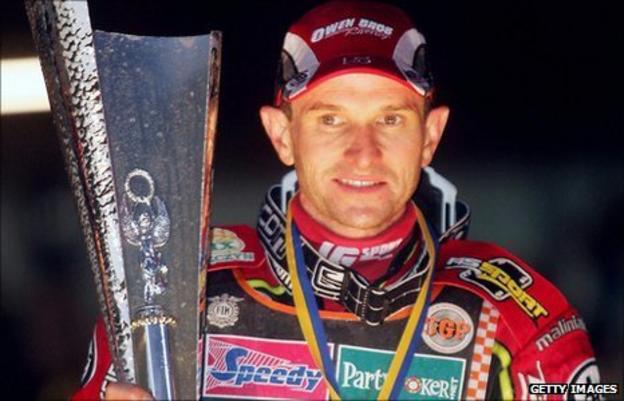 In October last year, after over 20 years as one of the most prolific riders in speedway, Leigh Adams rode his last competitive race for Swindon Robins.
He had enjoyed three separate spells in the Elite League with the Robins and is regarded as their greatest rider, with an average of 9.72 points over 2,776 rides.
But he opted to retire from European racing and return to his homeland.
Despite his decision to end his career, Adams' passion for bikes continued and, six months later, the 40-year-old entered the Finke Desert Race in the Northern Territory.
It was during his preparation for this competition that he suffered an accident that almost cost him his life.
"I did it for 22 years and never had anything too serious," he told BBC Wiltshire. "It was a weird crash - I had a problem with my bike and I was looking down the check it out when I came into the corner.
"I vaguely remember a little bit, when I was lying there - I think was just trying to survive.
"It wasn't until a couple of days later that I realised how serious it was. I was lying there and I couldn't feel my legs."
Adams came off his bike on rocky terrain and was left with punctured lungs, broken ribs and damage to his spinal cord, which required a six-hour operation.
Four months later and he is now out hospital and is back home in Victoria. But Adams is now having to learn how to walk again, and doctors are unsure whether he will ever regain full movement in his legs.
"I dislocated my ribs and broke a few and they were really painful. The punctured lung and that sort of stuff wasn't that bad, and I had a few other cracks in my neck which I didn't feel.
"We're not kicking goals but we are going forward. I've got pretty good movement in my left leg, the right one is slowly coming. The left one has always been ahead. When I came out of hospital I had a tingly, pins and needles feeling in my left so I've always had something there.
"If we had a crystal ball that would be fantastic. It's a bit of luck really, it's mental strength and putting everything into it - anything is possible."
Adams, who also rode for Poole and Oxford, admits he had always planned to return to Swindon, where he lived for two decades, but he has now put all his efforts into getting his life back on track.
"We always had a theory that in 2012 we'd come back, check things out and see the Olympics but that's on the back burner. It's a good couple of years before I see how I respond from this.
"I'm heading to America in January for an eight-week stint at this clinic. We are throwing everything at it.
"But I will be back - it just might take me a bit of time."