Poole Pirates ready for Belle Vue Elite League Knockout Cup final test
Last updated on .From the section Motorsport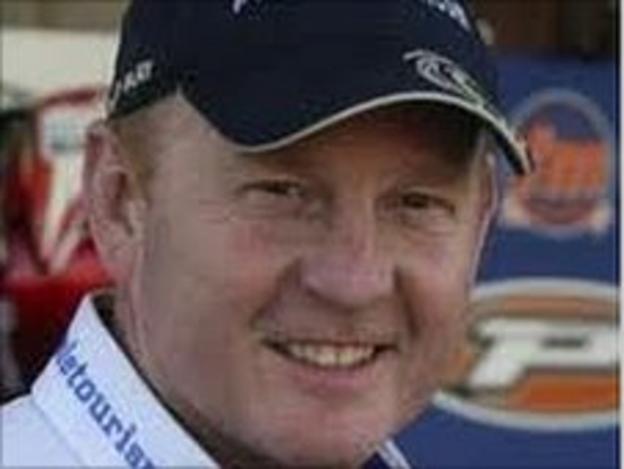 Poole Pirates boss Neil Middleditch has said victory in the Elite League Knockout Cup final would crown off a memorable season for the Dorset team.
Poole face Belle Vue in the final with the first leg at Kirkmanshulme on Wednesday before the second-leg finale at Wimborne Road 24 hours later.
The Pirates won the Elite League title earlier in October and are looking to win the double for the third time.
"It will be a nice way to finish," Middleditch told BBC Radio Solent.
Belle Vue boss Jim Lynch has said the cup is Poole's to lose, saying they are favourites for the title and all the pressure will be on them. In response, Middleditch has warned his side to be ready.
"We've done it before and it felt nice so hopefully we can bring another trophy home to Wimborne Road on Thursday night," said Middleditch.
"The boys haven't taken their foot off the gas. The league was the one we wanted because of last year's disappointment but, having said that, we want to win that cup now just as much, and the enthusiasm is still there."
Middleditch said he feels any more than an eight-point deficit will be difficult for Poole to overturn and he recognises the threat of Belle Vue, two riders in particular.
He said: "Everybody knows about Chris Harris, and Rory Schlein is coming off the back of winning Elite League riders' championship so they have some very competent riders."
Poole have won the double twice before - in 2003 and 2004 - but Middleditch believes doing it this year would be the most special.
"If we win the cup then it will be a great season," he said.
"We have done the double before but to do it this season would crown it all off. This has been the most consistent side in my time here."
Meanwhile, Poole have suffered a blow on the eve of their cup final clash with Belle Vue with the news that Swedish star Thomas H Jonasson is out with flu.
The absence of Jonasson comes on the back of the news that captain Davey Watt has vowed to ride on in the cup final on Wednesday despite recent hospital scans that have revealed he did break his collarbone in the semi-final clash at Eastbourne a month ago at Poole.