Official defends Las Vegas oval where Dan Wheldon died
Last updated on .From the section Motorsport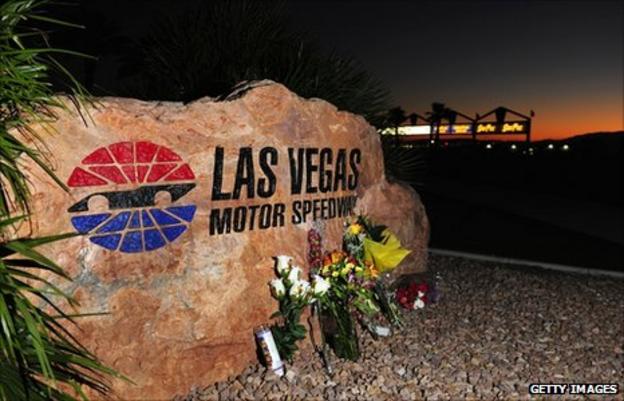 Las Vegas Speedway president Chris Powell insisted the track on which British driver Dan Wheldon was killed on Sunday met all IndyCar regulations.
Wheldon died after a 15-car crash at the 1.5-mile oval, which was hosting its first IndyCar event for 11 years.
Questions were raised about 34 cars being raced but Powell said: "We heard no qualms whatsoever from anyone at IndyCar that there were any concerns."
Meanwhile, the 2012 IndyCar chassis will bear Wheldon's name as a tribute.
"Dan lives in the memory of everybody at Dallara," said Gianpaolo Dallara, whose Italian firm makes the chassis used in the US-based open wheel series.
Drivers from around the racing world have questioned the wisdom of such a congested field in Las Vegas, the largest IndyCar line-up outside the Indianapolis 500, racing at speeds in excess of 220mph.
"I wouldn't run them on ovals. There's just no need to," five-time US stock car champion Jimmie Johnson said. "The ovals, when something happens, you just can't keep those cars on the ground."
However Powell said: "We as a speedway make sure we provide a venue that they come in and make an assessment when they're ready to race, and they did that exact thing.
"Our speedway conforms to every regulation that any sanctioning body has ever held it to, and we're very proud of that."