Mike Conway on the crash that killed Dan Wheldon
By Lawrence Barretto
BBC Sport
Last updated on .From the section Motorsport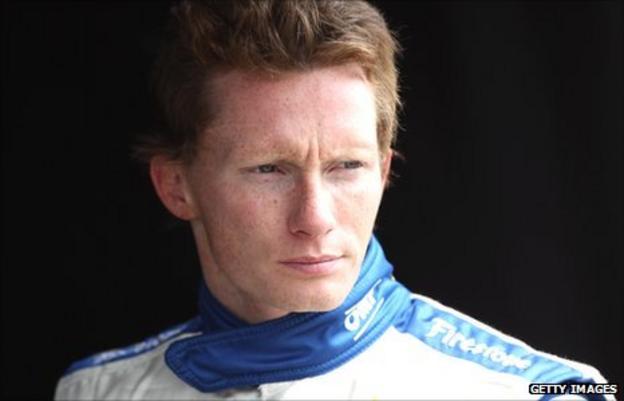 British IndyCar driver Mike Conway has had almost three weeks to reflect on the seconds before the crash that claimed the life of Dan Wheldon.
Conway was running ninth in Las Vegas but dropped back to around 20th before the 15-car incident on lap 13 - a decision which may have saved his life.
Speaking for the first time since the death of friend and rival Wheldon, the 28-year-old from Bromley in Kent told BBC Sport: "I could see people touching wheels and I didn't want to be doing that.
"I did not feel comfortable so that's why I dropped back."
The Nevada track where Wheldon, 33, died is banked, allowing drivers to run flat-out all the way around at speeds in excess of 220mph, and has the space for three cars to run side-by-side.
In doing so, drivers end up running very close together at high speed in what Andretti Autosport driver Conway describes as "pack" racing.
"Pack racing - we can work on trying to eliminate some of that," added Conway. "We need circuits where there is less banking and the cars get more spread out.
"If anyone makes a mistake when you are running so close, it's hard to avoid."
Conway was lucky to survive a horrific crash of his own when he smashed into a fence on the final lap of the Indianapolis 500 last May.
He escaped with a broken leg and won his first ever IndyCar race at Long Beach in April, just three races after returning from his accident.
"[After Wheldon's crash], I had thought back to what happened a year ago but you just have to count yourself very lucky," said Conway.
"I wasn't too keen to get back into the car, that's for sure, but at the end of the day this is what we all want to do.
"I've had a couple of weeks to reflect on it and now I'm focused on next year and getting the best seat possible. I want to do IndyCar - that's the bottom line."
Conway and Wheldon might have been team-mates next season - Wheldon already had a deal in place with Andretti Autosport and Conway could extend his contract with the team.
The pair had known each other since their days in karting and became friends when Conway moved to the United States in 2009 to compete in IndyCar.
"It would have been exciting to work with Dan," said Conway. "He was a great talent and it would have been awesome to learn from him.
"It leaves a bit of an empty feeling in your stomach - a weird feeling."
Conway was in the top four of the drivers' standings after four races this season before a number of mechanical failures and a drop-off in pace meant he finished 17th overall.
"It has been a really weird year," said Conway. "There have been some highs and some lows but all in all, I'm happy to come out with my first win and that makes you hungry for more.
"I haven't got a deal for next year at the moment but I'm talking to Andretti and a few other teams to keep our options open.
"It's all looking good and hopefully we'll know something in the next month or so."