Michael Dunlop may race sidecar at Isle of Man TT 2012
Last updated on .From the section Motorsport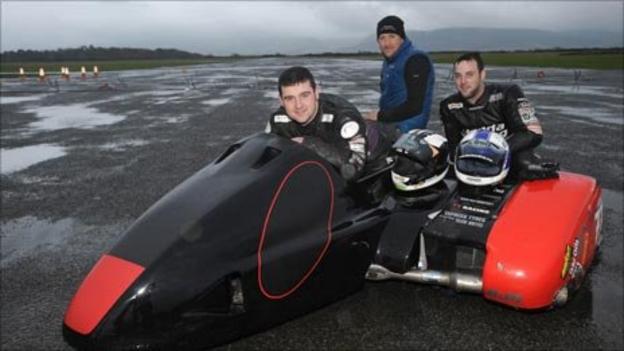 Michael Dunlop could make a sensational debut in the sidecar class at next year's Isle of Man TT races.
The Ballymoney man undertook a successful test in a sidecar machine at the Jurby race circuit on the Isle of Man on Wednesday.
Dunlop had experienced Manx sidecar competitor Dan Sayle as his passenger and set a series of fast times.
Dunlop has won two TT solo races but this would be his first foray into three-wheel motorsport competition.
The younger of the Dunlop racing brothers won a Supersport TT race in 2009, following that up with a victory in the Superstock class this year.
He has yet to confirm his plans for solo racing next year, but news that he is considering competing in the two sidecar races at the biggest road racing event of the year will come as a major surprise.
Seven-times TT winner Sayle is likely to passenger Dunlop on the Mountain Course if the three-time Ulster Grand Prix winner decides to take up the extra challenge.
If successful, Dunlop would become the first winner at the TT on both two and three wheels since Freddie Dixon in 1923.
The 22-year-old tested a Nick-Crowe built Honda outfit alongside former world sidecar champion Tim Reeves, who has already signed up to ride for the team next year.
"That was awesome, really, really enjoyable," said Dunlop after the test.
"Before the start, I thought it was going to be hard work, hard to drive, but it wasn't at all.
"I would love to win a Superbike TT in the afternoon and then go out and win a sidecar race in the evening - that would be really cool.
"I've a lot to consider because I'm at the top of my game as a solo rider - I'm not saying yes but I'm definitely not ruling it out.
"I have a lot to think about and will maybe get another couple of runs under my belt and see how I fare," added the Southern 100 champion.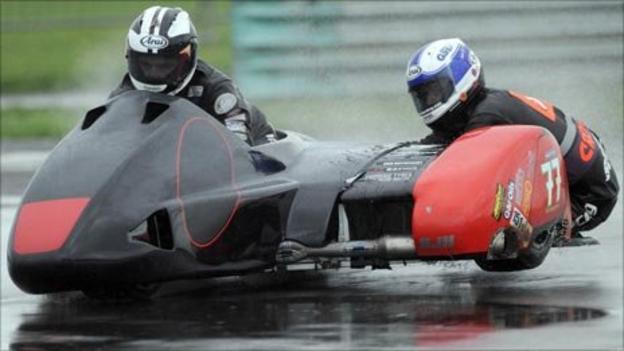 "Michael has been torturing me all year about getting a go in a sidecar and when he sorted this ride, Nick asked me to sit with him," said Sayle.
"He is smooth. I think he could race on the TT course."
Sayle finished by stating that he would be happy to passenger Dunlop on the roads next year.
"Michael took to it like a duck to water," added team boss Crowe, another former multiple TT winner.
"I wouldn't help anybody who was only joking about it but, if Michael wants to have a proper go, I will build him a bike to race at the TT.
"There is a left hander at the back of the circuit and it is daunting trying to go through there flat out in the dry - Michael was taking it flat out in the wet."