No change for 2012 Elite League season after AGM
Last updated on .From the section Motorsport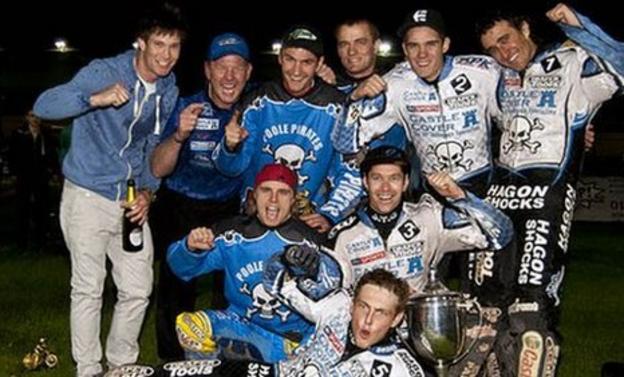 The 2012 Elite League season will include last year's rebels Peterborough and Coventry as well as 2011 debutantes King's Lynn and Birmingham.
At speedway's annual general meeting last term's winners Poole were confirmed alongside Eastbourne, Wolverhampton, Belle Vue, Lakeside and Swindon in an unchanged line-up.
Club's will face a team-building limit of 41 points.
And teams can now name two eight-point-average riders rather than just one.
The harmonious outcome is in stark contrast to last year when the annual meeting of the British Speedway Promoters' Association sparked a row with Coventry and Peterborough that was not settled until the eve of competition.
King's Lynn and Eastbourne have announced they will not be competing in this year's Elite League Knockout Cup, while the Premier League will consist of the same 14 sides as 2011.
The news is mixed for Elite League champions Poole Pirates and promoter Matt Ford says he faces a dilemma in the coming weeks as he begins his team building for next years campaign.
Ford will now be able to keep star riders Darcy Ward and Chris Holder but faces a struggle to keep the average limit of his seven riders under 41.
"It's a tough one because the points limit is now 41 and we finished on a points average of about 46 or 47 last season," Ford told BBC Radio Solent.
"It allows us to keep our two star riders but who knows what we are going to do. We've got a lot to think about in terms of getting a team together.
"We've got a lot of soul searching to do in the coming weeks. Which riders to keep and which riders to let go."
The biggest changes come in the BSPA management, where Lakeside boss Jon Cook was named vice-chairman and Wolverhampton's Chris van Straaten returns to the committee.
"I feel honoured to be vice-chairman and to have achieved that by winning an election makes me feel particularly responsible to my fellow members to make sure I do a good job," said Cook.
"I have enjoyed working with Alex Harkess [chairman] as a member of the management committee and feel he has been an exceptionally diligent chairman in his responsibilities towards our league over a very stormy period of history both in and outside of the sport."