Pippa Mann hungry for quick IndyCar Series return
Last updated on .From the section Motorsport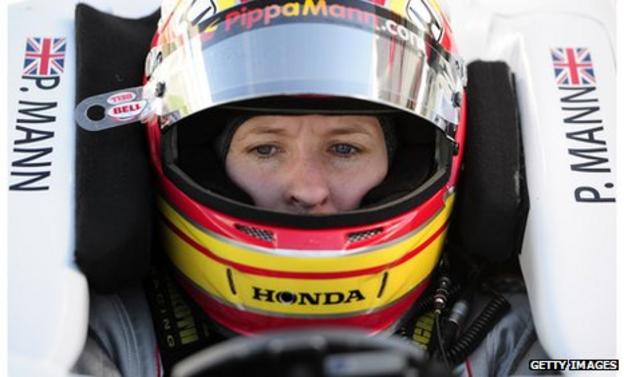 Suffolk racer Pippa Mann has targeted a quick return from the injuries she suffered in the IndyCar crash that killed Dan Wheldon in October.
The 28-year-old is recovering from surgery after severely burning her hand in the 15-car accident in Las Vegas.
"The doctors have told me I should aim to be cleared to drive in January," she told BBC Radio Suffolk.
"That's absolutely what I am doing. I am not going for three to six months recovery. I'm going for three months."
Mann, who moved from Ipswich to the United States two years ago, has had an operation to reconstruct the side of her right hand, including the little finger.
And, after becoming the first British woman ever to compete in the Indianapolis 500 last year, Mann is determined to return before the IndyCar Series reconvenes in March.
"I want all the teams to know I am absolutely raring to go," she said. "I can't wait to get strapped back in again.
"I just have to get one of the pesky forms signed off by one of the doctors and I'll be there.
"We've got a couple of offers from a couple of teams and we're trying to put together packages to make that happen."
The death of Wheldon at the age of 33 raised questions over the safety of IndyCar racing.
But Mann, who was Wheldon's team-mate in feeder event Indy Lights, defends the sport.
"It's just one of those things," she said. "As horrible and heartless as that sounds, these things just sometimes happen in motor racing.
"When you have that many cars running in that big a pack things can go wrong.
"We've run big-pack races like that with this generation of car over eight years and never had a crash like that."