Riders reject one-tyre rule for Irish short circuits
Last updated on .From the section Motorsport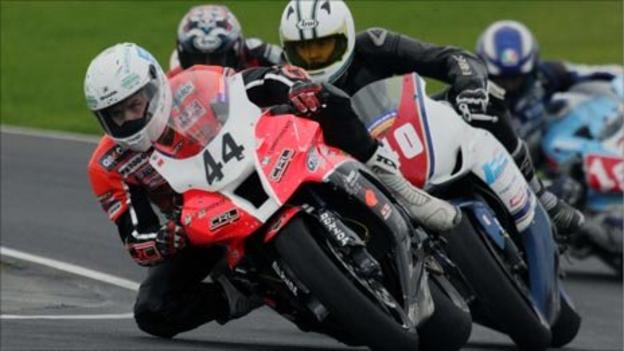 The Ulster Centre of the Motorcycle Union of Ireland has unanimously rejected the imposition of a one-tyre rule for short circuit championship meetings in the province.
The move followed a meeting of the Tarmac Committee at which riders voted by 85 to 7 against accepting a deal with Pirelli worth around £25,000.
"The riders didn't want to be forced into using one make of tyre," explained Tarmac Committee chairman Jack Agnew.
"It is basically the riders' choice."
"It will mean less prize money than would otherwise have been the case but Southern Centre riders were not happy with the idea of having to buy separate tyres for 'Ulster' championship races," added Agnew.
One third of the money offered by Pirelli would have been spent on promoting the series, with the other two thirds directed towards the prize fund.
The company had indicated that they would provide tyres for all classes except sidecars and classics.
The rejection means the Irish short circuit and Clubmans championships will remain in their present form.