IndyCar inquest finds driver Dan Wheldon killed by fence pole
Last updated on .From the section Motorsport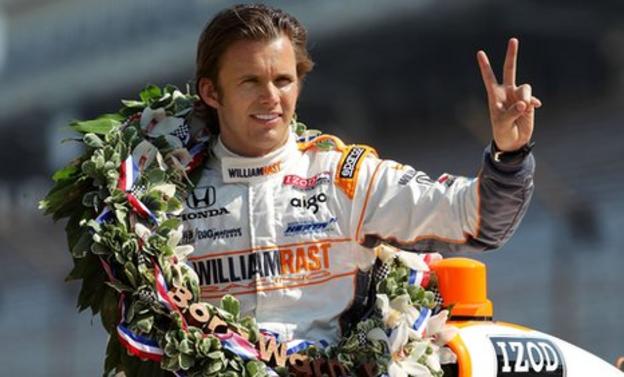 IndyCar officials say British driver Dan Wheldon was killed after colliding with one of the fence poles that line the Las Vegas Motor Speedway track.
A report said the pole "intruded in the cockpit and made contact with the driver's helmet and head".
IndyCar chief executive Randy Bernard said: "Several factors coincided to produce a perfect storm."
Bernard added: "It is impossible to determine with certainty that the result would have been any different if one or more of the factors did not exist."
Critics had previously questioned the race's safety considerations, including the number of cars allowed to compete.
But officials say the starting field of 34 cars was "deemed to be acceptable" and that the accident could have occurred with "any size starting field at any track".
Wheldon, who was bidding to win a $5m (£3.2m) jackpot by coming from last on the starting grid to win in Las Vegas, was one of 15 drivers involved in a crash at the second corner on lap 13.
After contact between two cars further ahead in the field, Wheldon's crash was sparked by a spin from Vitor Meira that led to a collision between EJ Viso and Charlie Kimball.
IndyCar's accident report, which took two months to compile, found that Wheldon decelerated from 224mph to 165mph just seconds before running into Kimball.
Wheldon's number 77 car then "travelled in a nose-up, semi-airborne state for approximately 325 feet" before hitting the pole.
Wheldon then suffered "two distinct head forces", the second of which "produced the non-survivable blunt force injury traumas to Dan's head".
In October, IndyCar said it would not sanction a race at Las Vegas Motor Speedway in the 2012 season, but the accident report said testing would be conducted at the circuit with a view to a potential return in 2013.
IndyCar president of operations Brian Barnhart, who was involved in the investigation said: "There are multiple factors that are not uncommon to racing that came together in a way that claimed Dan's life.
"It is a tragedy. Our thoughts and support will always be with Dan's family."