Motorcyclist Jorge Martinez Boero dies in Dakar Rally
Last updated on .From the section Motorsport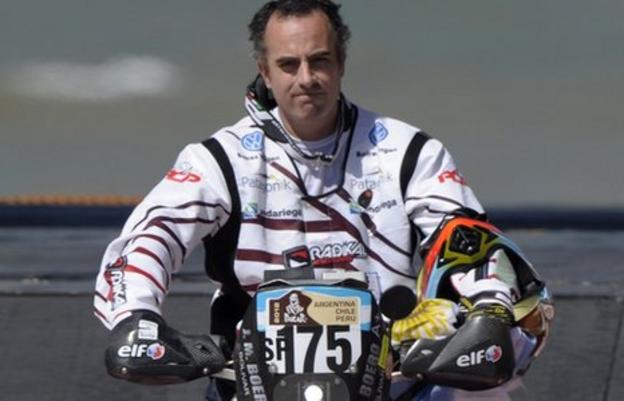 Argentine motorcyclist Jorge Martinez Boero has died from head and chest injuries in a crash on the first day of the Dakar Rally.
The 38-year-old fell on the stage between Mar del Plata and Santa Rosa de la Pampa in Argentina.
Police said Martinez Boero, who was competing in the event for the second time, died en route to hospital.
In its 33rd year, the Dakar Rally is considered one of the most dangerous rallies in the world.
"The organisers of the rally offer their heartfelt condolences to his family and loved ones," race officials said in a brief statement.
The event has suffered three fatalities in as many years.
Last year, a man died when his truck collided with a car competing in the rally while in 2010, a female spectator was killed by a vehicle taking part in the race.
In 2009, French motorcyclist Pascal Terry was found dead after he had been missing for three days following the second stage of the race.
The 2012 route has changed considerably with drivers and riders tasked with a daunting 5,500-mile route starting from Mar del Plata, south of Buenos Aires.
The 465-strong field navigate their way through Argentina and into Chile and Peru before reaching the finish in Lima, the Peruvian capital, on 15 January.
The event was held in Africa but moved to South America in 2009 because of security concerns in Mauritania which forced the cancellation of the 2008 event.
Leonid Novitskiy of Russia won the opening stage of this year's event in the cars category while Francisco Lopez of Chile was the victor on the bikes.