Freddie Lindgren backs Wolves' Pontus Aspgren to shine
Last updated on .From the section Motorsport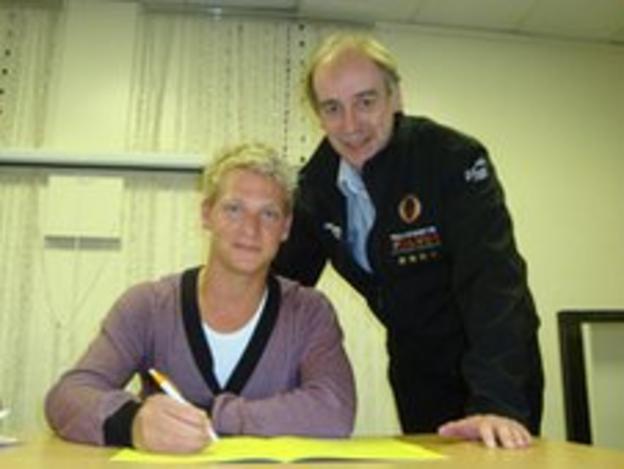 Wolverhampton number one Freddie Lindgren has backed his young fellow Swede Pontus Aspgren to make a positive impact with the club this season.
Aspgren, 20, is a new face in the Wolves line-up for 2012, while Lindgren is returning to the club he has represented since 2003.
Lindgren told BBC WM: "Pontus is a really great guy. He takes the sport very seriously.
"He really wants to progress and become a better rider. He always gives 100%."
He continued: "Sometimes he can be a bit too eager and maybe a bit wild on the bike.
"I'm sure if he can get his head a bit calmer he'll do a great job for us. He's a great kid."
And Lindgren is excited about embarking on another season with Wolves.
"It's great to be back at Wolverhampton," he said. "This is my home in British speedway and I've been connected with Wolverhampton for a long time now.
"I didn't like the track when I first came over. But I managed to get it going for me and nowadays I really enjoy riding Monmore Green, I love the track.
"Also the club is run in a very professional way. I have a good relationship with both team manager Peter Adams and promoter Chris Van Straaten."
Lindgren says it has been useful for him to stay at one club for his entire career in Britain to date.
"I think it has helped me in my career," he said. "It's always great to come to Wolverhampton on a Monday night and you know what they have for you.
"The track is always very well prepared, one of the best in British speedway - I love it there.
"It came to my knowledge at the weekend that I would probably be allowed to have a terstimonial in 2013.
"Time flies by, I can't believe it is almost 10 years ago when I first rode for Wolverhampton. Maybe I am getting a bit older now."