Isle of Man TT 2012: Cummins signs with Tyco Suzuki
Last updated on .From the section Motorsport
Conor Cummins has signed for Northern Ireland's Tyco Suzuki by TAS Racing as their first major signing for the 2012 international road racing campaign.
The 25-year-old Manxman will ride Tyco Suzuki machinery in the Isle of Man TT, North West 200 and Ulster Grand Prix.
Cummins said: "This is the ride I've been wanting for three or four years and I can't wait to get racing."
He is expected to be joined by crowd favourite Guy Martin in the Northern Ireland outfit.
Cummins suffered a high-speed crash in the Senior TT in 2010 but is now back at full fitness and looking forward to the next chapter in his career.
"I'm thrilled to have been given the chance to ride for a factory-supported team in Tyco Suzuki and to be working with the boys at TAS Racing.
"I've been training hard with gym sessions and out on the push bike over the winter, so I'm relishing the thought of getting aboard the big GSX-R1000 Superbike in testing.
"I'd say I'm not far off being as fit as I ever was and having been over to the workshop to meet the boys in Northern Ireland and have a look at the bikes - April can't come quick enough to get racing," he added.
Cummins is widely regarded as one of the sport's hottest young properties and team manager Philip Neill says he has both the attitude and personality he looks for in a rider.
"It's fair to say there has been a little bit of pressure to return to a two-rider team on the roads - so once we'd reached that decision Conor really was the obvious choice.
"I've always been hugely impressed with Conor and his riding skills were evident to everyone after those blistering lap speeds at the 2010 TT."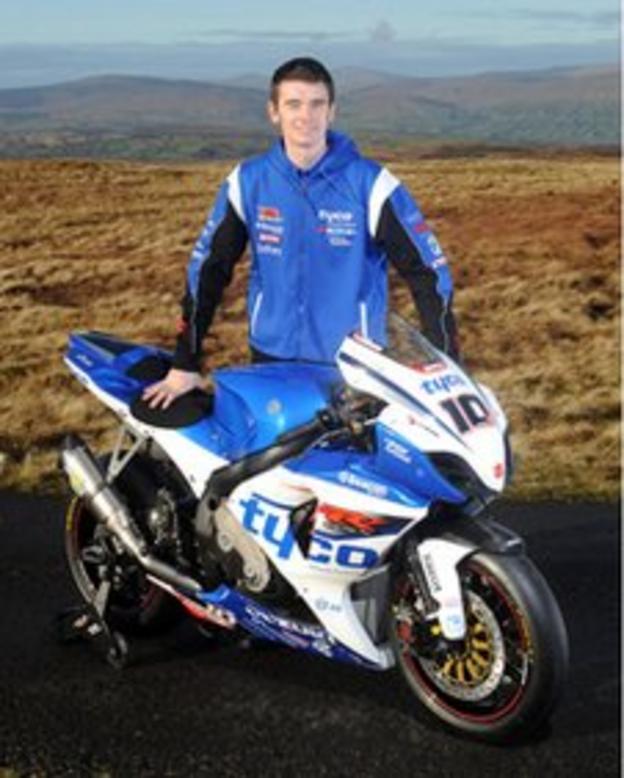 "However, probably more impressive is the determination he has shown in his comeback from injury, and for me, that was more than enough to justify a factory-supported ride with us here at Tyco Suzuki."
Cummins has finished on the TT podium three times including the runner-up spot in the 2009 Senior race and he also established a commanding lead in the 2010 Superbike race before breaking down.
He battled back from career threatening injuries to compete in the 2011 TT and achieved a notable sixth place in the Supersport Race Two.
The giant Manx rider recorded the Mountain Course's fastest lap from a standing start in the 2010 Superbike race at 131.511 mph and is the only Manxman to record a lap of 130mph.
Cummins is also a former winner of the Ulster Grand Prix.